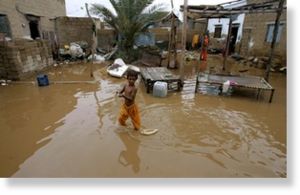 Karachi - A tropical storm lashed Pakistan's coast with torrential rains and heavy winds Sunday, damaging mud houses and submerging roads in the country's largest city. Seven people were electrocuted in floodwaters, officials said.
Authorities feared worse flooding was to come in and around Karachi and tried to evacuate people from their homes elsewhere along the country's southern coastline. Some villagers refused to move, but several thousand people shifted to higher ground, said Hamal Kalmati, a government minister in Baluchistan province.
He said many mud houses in Gawadar and Pasni districts had already collapsed.
The storm made landfall late Sunday to the east of Karachi, bringing winds as high as 50 miles (80 kilometers) per hour. The meteorological department said ocean storm surges of between 2 and 4 meters were likely in Karachi and other coastal towns.
The storm was forecast to lose strength as it moved inland. Originally of cyclone strength, Tropical Storm Phet hit Oman on Friday, killing at least two people and causing widespread flooding.
In Karachi, hours of rain left roads under more than one foot (30 centimeters) of water. Electricity was cut in many districts in the mostly low-lying city of 18 million people.
Many parts of Karachi and other towns along Pakistan's coast are desperately poor. Roads, bridges, houses and drainage systems are already in bad condition, making them vulnerable to high winds, heavy rain and rough seas.
The heavy rains were welcomed by some residents in Karachi, which is baking in the summer heat.
"Let the storm come. We are not afraid," said Saeed Ali, a 17-year student who was playing cricket on a normally busy street. "
We rarely get rain in summer
. This is a golden moment."