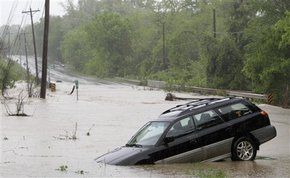 The Nashville, Tennessee flooding has gotten totally out of control with an Interstate being turned into what looks just like a river. Many cars are flooded in the river of an interstate. It is all just crazy and horrible! This Nashville flooding has been the worst rain that they have ever seen in all of Nashville's entire history.
Below I have a CNN video which shows a lot cars that are submerged in the water as well as a school building that has lost its ability to stay on land and is literally floating down Interstate 24 (I-24). The Harpeth River was forced to rise by 26 feet by Saturday evening which has in turn caused major flooding of the metro area in Nashville.
Emergency personnel have been having to do emergency evacuations of people from their homes as well as endure over 50 rescues of people from the floodwaters. At this time, people are homeless and having to live in shelters. Right now the Red Cross and Lipscomb University has offered to shelter the homeless due to the flooding.
Just watching the video of the Nashville flooding, I am amazed at the damage that raindrops on top of raindrops can make on a city. The destruction must be incredulous in Nashville. Many people have lost their lives in these floods and there have even been many rooftop rescues! May Nashville receive a blessing of no more rain and a quick restoration of the city of Nashville. And what a tragedy to those who have lost loved ones!