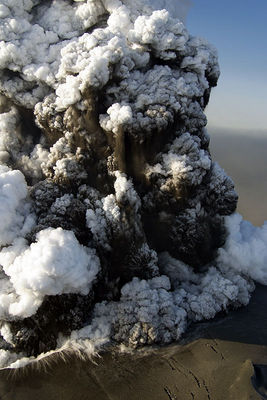 Europe's air industry has called for an urgent review of flight bans imposed because of volcanic ash from Iceland.
The bodies representing most European airlines and airports have questioned the need for the unprecedented curbs, which affect millions of travellers.
Airlines that have carried out test flights say planes showed no obvious damage after flying through the ash.
EU Transport Commissioner Siim Kallas said he hoped 50% of Europe's airspace would be risk-free on Monday.
He said the current situation was "not sustainable" and European authorities were working to find a solution that did not compromise safety.
"We cannot just wait until this ash cloud dissipates," he added.
Mr Kallas also said EU transport ministers would hold a video teleconference on Monday to assess the situation. About 17 European countries have closed their airspace.
The flight bans came amid fears that the ash - a mixture of glass, sand and rock particles - can seriously damage aircraft engines. Airlines are estimated to be losing some £130m ($200m) a day.
The European air traffic coordinating agency, Eurocontrol, reports that 63,000 flights have been cancelled since Thursday. There were only 5,000 flights in European airspace on Sunday, against 24,000 normally, it says.
ACI Europe - which represents major airports - and the Association of European Airlines issued a joint statement urging officials to reconsider the restrictions.
'Dangerous levels of ash'
"The eruption of the Icelandic volcano is not an unprecedented event and the procedures applied in other parts of the world for volcanic eruptions do not appear to require the kind of restrictions that are presently being imposed in Europe," the statement said.
Earlier, several airlines also questioned the curbs.
Peter Hartman, chief executive of Dutch carrier KLM, said there had been "nothing unusual" about a test flight carried out by the airline through the plume, and he hoped to "get permission as soon as possible to partially restart our operations".
Steven Verhagen, vice-president of the Dutch Airline Pilots Association, told the Associated Press news agency: "In our opinion there is absolutely no reason to worry about resuming flights."
Germany's two biggest airlines, Lufthansa and Air Berlin, also said they had carried out test flights without apparent damage, as did Air France.
Air Berlin spokeswoman Diana Daedelow told the BBC:
"It is astonishing that these findings... have seemingly been ignored in the decision-making process of the aviation safety authorities."
A British Airways Boeing 747 completed a test flight through the no-fly zone at 30,000ft (9.1km) from Heathrow to Cardiff on Sunday.
While
it encountered no problems, no loss of engine performance and no damage to windows
, engineers in Cardiff were due to make a more detailed assessment of its engine overnight.
Earlier on Sunday, a UK Met Office plane went through the cloud and encountered dangerous levels of ash, showing that the issue is not whether the cloud is real and dangerous but whether its extent can be accurately mapped, BBC business editor Robert Peston writes.
Comment: Non-sequitur; the second premise does not follow from the first. Someone is trying to fudge data again.
One possible solution is to put observation planes in the sky, to give a more detailed picture of the location of ash concentrations, and the UK government is therefore trying to obtain more observation planes, from the military in particular, he adds.
Our business editor understands that BA fears it may not be allowed to fly normal services until Thursday at the earliest.
Worsening disruption
UK Transport Secretary Lord Adonis, said "urgent discussions" were taking place between European and international agencies to ease the chaos.
"We want to be able to resume flights as soon as possible, but safety remains my paramount concern," he said.
Weather experts say wind patterns mean the cloud is not likely to move far until later in the week.
Brian Flynn, head of operations at Eurocontrol - which co-ordinates air traffic control in 38 nations - dismissed suggestions the authorities were being over-cautious.
"With the overriding objective of protecting the travelling public, these exceptional measures have to be taken," he said.
Polish funeral
Since Thursday, countries across northern and central Europe have either closed airspace or shut key airports.
Britain has extended a ban on most flights in its airspace until at least 1900 local time on Monday (1800 GMT).
Ireland is keeping its airspace closed until 1200 GMT on Monday.
Germany had allowed six international airports to open on a limited basis on Sunday but has since closed its airspace until at least 1200 GMT on Monday.
The Netherlands has announced that Dutch airspace will remain closed until at least 1200 GMT on Monday.
Travellers across northern Europe have sought other means of transport, packing out trains, buses and ferries.
The restrictions prevented many world leaders, including US President Barack Obama, from attending the funeral of Polish President Lech Kaczynski in the southern city of Krakow.
Southern Iceland's Eyjafjallajoekull volcano began erupting for the second time in a month on Wednesday, sending a plume of ash 8.5km (5.3 miles) high into the air.