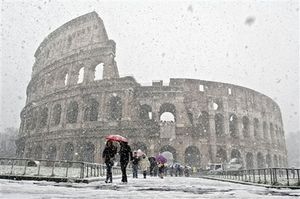 Tourists took rare pictures of snow falling on the Colosseum and the Trevi fountain on Friday, and the Pope reportedly appeared at a Vatican window to watch
Rome's heaviest snowfall in nearly a quarter century.
In scenes usually only glimpsed in souvenir "snow domes" Italy's capital was blanketed in white, snarling road and air traffic but delighting many Romans who rode scooters with their feet on the ground and snapped pictures with mobile phones.
Rome was last dusted in snow in 2005, but one meteorologist said the steady snowfall through Friday morning was the heaviest seen in the Italian capital in 24 years.
"It's very exciting. I have been taking pictures of my husband in front of the Colosseum because I thought nobody would believe me if I told them it was snowing in Rome today," said Margaret Jones, a tourist from London.
The ancient Roman forum and the Colosseum were later closed for safety reasons.
Heavy rain, snow and strong winds lashed central and southern Italy, prompting the closure of roads in many areas and some schools were shut on the island of Sardinia.
In Rome, Ciampino airport was shut and flights diverted to the bigger Fiumicino airport while the city's normally chaotic traffic slowed to a crawl in many areas.
"It's beautiful but we are not used to it in Rome," said one Rome motorist, Mario Strillandi. "Rain is enough to block traffic in the city -- imagine what it's like with snow."
(Reporting by Reuters Television; Writing by Deepa Babington; Editing by Robin Pomeroy)