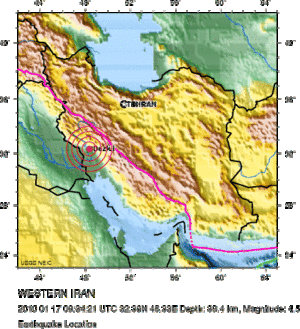 A moderate magnitude-4.9 earthquake has shaken the city of Andimeshk in Iran's southwestern province of Khuzestan, seismologists have announced.
Local seismological centers affiliated to the Geophysics Institute of Tehran University registered the trembling at 23:53 local time (20:23 GMT) on Saturday.
The epicenter was located a few kilometers away from Andimeshk, on the foot of the Zagros Mountains with a population of more than 180,000 people
The shake caused panic, but there were no immediate reports of casualties or damage in Andimeshk, located 726 km (451 miles) southwest of the Iranian capital, Tehran.
Iran is located at the juncture of some of the world's most active seismic faults causing minor and major jolts on an almost daily basis.
For detailed information, go
here
.