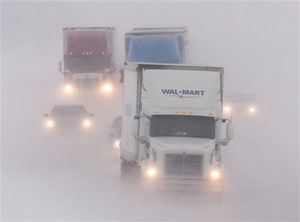 Des Moines - Snow was piled so high in Iowa that drivers couldn't see across intersections and a North Dakota snowblower repair shop was overwhelmed with business as residents braced Thursday for heavy snow and wind chills as low as 50 below zero.
Frigid weather also was gripping the South, where a rare cold snap was expected to bring snow and ice Thursday to states from South Carolina to Louisiana. Forecasters said wind chills could drop to near zero at night in some areas.
Dangerously cold wind chills were anticipated in the Midwest overnight, including as low as 35 below in eastern Nebraska, minus 45 in parts of South Dakota and negative 50 in North Dakota, according to National Weather Service warnings.
Another 10 inches of snow was expected in Iowa, buried in December by more than 2 feet of snow, while up to 9 inches could fall in southeast North Dakota that forecasters warned would create hazardous zero-visibility driving conditions. Wind gusts of 30 miles per hour were expected in Illinois - along with a foot of snow - while large drifts were anticipated in Nebraska and Iowa.
Joe Dietrich said he had to turn away dozens of customers this week from his snowblower repair shop in Bismarck, N.D.
"My building is only so big and I can only take so many," Dietrich said.
The weather hasn't let up since sweeping into the eastern U.S. earlier this week. Five straight days of double-digit subzero low temperatures, including negative 19, were recorded by the National Weather Service office in Chanhassen, Minn., a Twin Cities suburb.
"It's brutally cold, definitely brutal,"
meteorologist Tony Zaleski said.
Several deaths have been blamed on the cold. An 88-year-old woman died of hypothermia Tuesday in her unheated Chicago home, an Alzheimer's sufferer died after wandering into his yard in Nashville, Tenn., and a homeless man was found dead in a tent in South Carolina, authorities said. Kansas City police said a man involved in a multi-car pileup Wednesday died after jumping a barrier wall in the dark, apparently to avoid sliding cars, and falling about 80 feet.
In the South, Kentucky Gov. Steve Beshear declared a state of emergency in Perry County on Wednesday after water line breaks left areas without water.
Freeze warnings covered nearly all of Florida with temperatures expected to drop into the 20s overnight. Freezing iguanas were seen falling out of trees in Florida; experts say the cold-blooded reptiles become immobilized when the temperature falls into the 40s and they lose their grip on the tree.
Schools in parts of Mississippi, Alabama, Missouri and Oklahoma were among those expected to cancel classes because of weather, while major roads in South Dakota, North Carolina and Virginia were closed.
Salt had no effect on the Twin Cities' ice-rutted streets, and the deep snow left over from a Christmas storm has hardened into rock-hard blocks. The conditions helped business at Roger's Master Collision, an auto-body repair shop in Plymouth, Minn.
"A lot of people sliding on the ice, then hitting the snowbanks. They're frozen up pretty hard," said store manager Kirk Suchomel, estimating the shop is averaging 15 repair estimates a day. "I'm sure we're going to stay busy."
In Iowa, officials in Des Moines warned that a $3 million annual snow removal budget would likely be exhausted with this week's storm. Another 10 inches of snow was forecast overnight - on top of the more than 28 inches of snow that fell there in December.
Public Works Director Bill Stowe said the city would tap a $6 million road maintenance fund to cover snow clearing for the rest of the season. Snow that had been plowed into tall piles at intersections was set to be dumped into a lake.
"It can be a half-million dollar operation, depending on the amount of snow," Stowe said.