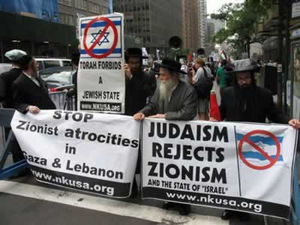 A group of Jews have gathered in downtown New York City to protest against Israel's alleged attempts to oppress Torah followers. They accuse the government of brutally attacking anti-Zionists living in Israel.
Crammed behind barricades in Manhattan, hundreds demonstrated across the street from the Israeli embassy.
"The most harmful place for Jews is in Israel,"
the protesters claim.
The uniformed group accuses officials in Israel and Jerusalem of oppressing Torah Jews, and for recently unleashing brutal attacks on the anti-Zionists living there.
Isaac Grunfileld from the Jews against Zionism movement explained their cause.
"Religious Jews are suffering and are brutalized by the police department because they are fighting for their religion."
In this case, those belonging to the same religion couldn't be more divided on their belief.
The Israeli supporters, clearly outnumbered by the Torah Jew demonstrators, accuse the all-male group of waging a propaganda war.
"Whatever their banner says is just a front, a façade," one of the onlookers said.
"These people are inherently anti-Israel."
"Once and for all stop doing what you're doing!" another one echoed, addressing the protesters.
"You need to support the state of Israel and not go against it."
Nati Semil, who is visiting the US from Israel, expressed his view of the situation:
"If they want to protest something, they should come to Israel, not stand here and yell."
The Torah Jews say they oppose Zionist sovereignty over Jerusalem and the entire holy land, and they just happen to be proclaiming their position in New York City, home to the largest concentration of Jewish people outside of Israel.
This is just the first of many demonstrations expected to hit the streets of New York City in the weeks ahead.
When the United Nations general assembly debate kicks off, this group says it will be out on the streets again protesting against the leaders of Israel who will be joining the international body to discuss the world's problems.