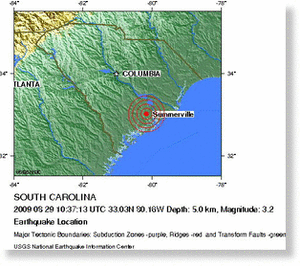 Summerville -- The U.S. Geological Survey says a small 3.2 magnitude earthquake has been reported in South Carolina near the coast.
Moderate tremors were felt for three to five seconds at about 6:30 a.m. Saturday. The tremors were followed by a series of weaker vibrations.
No damage or injuries were immediately reported. Some residents experiencing the earthquake reported hearing a loud explosion.
The earthquake was centered about two miles northeast of Summerville, which is about 15 miles north-northwest of Charleston.