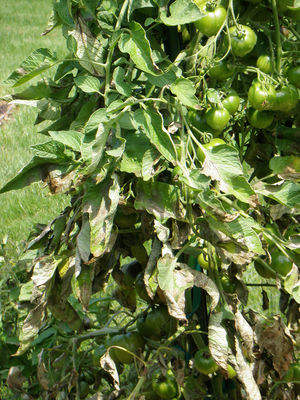 Wisconsin potato growers are on alert for a highly contagious fungus that has been found on tomato plants throughout the state. Officials worry that the fungus - which caused the Irish potato famine in the mid-19th century - could make the leap to potatoes and threaten the local crop.
As of Friday, Wisconsin had at least eight confirmed cases of the late blight fungus on tomatoes in Dane, Rock, Portage and Langlade counties - including at least one commercial vegetable farm, said Amanda Gevens, a plant pathologist with the University of Wisconsin-Madison and University of Wisconsin Extension. An additional 20 to 30 suspected cases are being investigated in several counties, she said.
The fungus first appeared earlier this summer in the Northeast, possibly carried by infected seedlings at garden centers. It has spread to other parts of the country since, rapidly killing tomato plants in its path. Spores are carried by wind, rain, people, machinery and wildlife.
In other states, the fungus quickly made the leap to potatoes, which is why Gevens met with Wisconsin potato growers this week to explain the signs and to prepare growers for a potentially devastating crossover. Wisconsin - the nation's third largest potato producer behind Idaho and Washington - last year harvested 2.3 billion pounds of potatoes.
"It has now landed in the center of commercial potato production in Wisconsin, so the risk is great," Gevens said.
Gardeners and growers are urged to scout tomato and potato plants for signs of the blight. Left unchecked, it spreads quickly.
However, modern farmers have access to fungicides that can help protect their plants.
Tomatoes from plants exposed to the fungus are safe to eat, said Sharon Morrisey, consumer horticulture agent for the Milwaukee County Cooperative Extension. The fungus is a threat to growers, not consumers, she said.
The fungus was first detected in Wisconsin late last week in a Madison home garden, said Adrian Barta, a plant and disease specialist with the Wisconsin Department of Agriculture, Trade and Consumer Protection.
It was found at a Rock County commercial vegetable farm this week.
Late blight lesions usually start as pale green spots on the leaves, eventually turning brown to black and appearing somewhat greasy, according to Gevens. Lesions can grow quite large and destroy entire leaves and stems.
Tipi Produce, an organic farm in Evansville, cut nearly 1,000 infected tomato plants in a field on Wednesday after co-owner Steve Pincus, alerted to the fungus by a mass e-mailing from Gevens, checked his plants.
His wife and farm partner, Beth Kazmar, is a plant pathologist, and they grow 5,000 to 6,000 tomato plants in two fields. The 45-acre farm - which sells 600 weekly shares of produce to members in Madison, Milwaukee, Janesville and Evansville - hopes to salvage the rest of its crop and already has produced enough tomatoes for two weekly shares, Pincus said.
"As organic growers, we don't have many tools, but we are using copper hydroxide, an inexpensive and safe material that has been used literally for thousands of years," he said. The copper is an approved organic fungicide that creates a physical barrier, preventing spores from reaching plants.
Pincus doesn't know how his plants became infected.
"It must have blown in on the wind," he said.
The pathogen catches a ride on weather systems and can travel 40 miles on the wind from wherever it is found, Gevens said.
Under humid conditions, the edges of the lesions show white spore-producing structures, particularly on the underside of the leaves. On the tomato fruit, brown lesions appear on the top and sides and can eventually cover the entire fruit.
Officials urge growers and gardeners to check tomato and potato plants closely at least twice a week.
Under the right conditions, late blight spreads rapidly through a field, killing plants in one to two weeks.