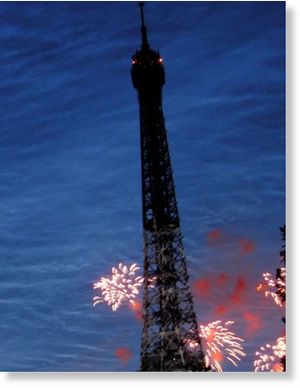 In France, yesterday was Bastille Day, and the heavens themselves joined the party. "As we celebrated the storming of the Bastille on July 14th, noctilucent clouds (NLCs) stormed the sky of Paris!" reports Olivier Lagrave who photographed the Eiffel Tower framed in electric blue.
"The display was so breathtaking (my first actually) that I almost forgot to watch the fireworks," he says.
Noctilucent clouds are seldom seen as far south as France--not to mention seen through fireworks. But the display wasn't over when Bastille Day ended. By sunrise on July 15th, the mysterious clouds had invaded the United States. Mike Hollingshead sends this photo from Blair, Nebraska.
"I've never seen noctilucent clouds before, even though I am often out looking," he says. "These were wonderful." Similar reports have poured in from Oregon, Washington, Idaho, South Dakota, central California and possibly northern Nevada.
These sightings are significant because they come from places so far south. When noctilucent clouds first appeared in the late 19th century, they were confined to latitudes above 50o N (usually far above). The latitude of Blair, Nebraska, is only 41°30' N. No one knows why NLCs are expanding their range in this way; it's one of many unanswered questions about the mysterious clouds.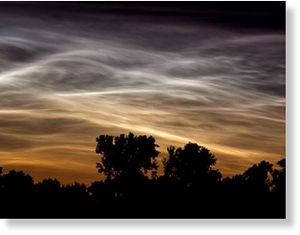 Last night's apparition is a call to sky watchers at all latitudes. Be alert for NLCs! Observing tips may be found in the photo
gallery
.