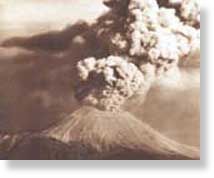 Mount Vesuvius remains a threat to hundreds of thousands of people even though the volcano overlooking the southern Italian city of Naples has not erupted since 1944, a geologist warned Wednesday.
"Vesuvius is a very dangerous volcano," Francesco Russo told a news conference in Rome. "According to some statistics, there is a 27 percent chance of an explosive eruption in the next 100 years."
Russo, head of a Naples-area geologists association, said civil protection measures against a possible eruption were "inadequate."
"Some 600,000 people live in the 'red zone,' meaning they would be directly threatened by this type of explosion," he said. "But we're not sure we would be able to evacuate them."
Even with a week's warning, "it would be difficult," he said.
"The authorities are not doing enough," Russo said. "Evacuation plans are not reliable, the plans for getting people to leave threatened areas are inadequate."
He scorned an offer by regional authorities of 30,000 euros (40,000 dollars) for people to move out of danger zones. "Of course it didn't work. What kind of home can you buy for that price?"
With so many people potentially at risk, Vesuvius is under close surveillance, with seismographs and a satellite ready to pick up its every move.
The last explosive eruption was in 1631, claiming 4,000 lives, while the event in 1944 was more benign, producing lava flows but without spewing hot ash and gases. Nevertheless, 26 people died and 12,000 lost their homes.
A repeat of the eruption that destroyed Pompeii in 79 AD, Russo said, would threaten between two and five million people, but the likelihood of such an event is only around one percent.
Vesuvius spewed ash over a 25-kilometre (12-mile) radius, blanketing Pompeii and other cities and towns as well as farmland in the region.