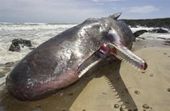 Just one sperm whale from a group of almost 50 that beached en masse in Australia's south has survived, and remains sandwiched among the dead, officials said Saturday.
The pod of 48 whales became trapped this week on a sandbar 150 metres (500 feet) offshore from Perkins Island on the northwest coast of the island state of Tasmania. By the time they were discovered on Thursday almost all had perished.
High winds and ocean swell prevented rescuers from floating the two whales who survived through Friday night out to sea, and by late Saturday rescuer Warwick Brennan said just one was still alive.
"We didn't get a chance to get the whales out so we've just been trying to maintain them, keep them cool, but unfortunately one of them has died during the day so we've only got one alive now," Brennan told
AFP
.
Officials would remain in the area overnight and return to the site at first light to assess conditions for an attempt to free the sole survivor from the pod of dead whales and get it out to sea, he said.
"The tide's coming in, which is always better as it gets more water around it and everything, but obviously now we're dragging into another day, which makes it a lot harder," he said.
"But while the animals are alive we try to maintain them, keep them cool, prevent them overheating and if an opportunity arises and they are strong enough we can give it a go, see if a rescue's possible."
Brennan said the sandbar was in a difficult area which was not accessible for machinery, and it would be difficult to move the corpses, which were "incredibly large".
Male sperm whales can grow to 18 metres and females 12 metres in length, weighing in between 20 and 50 tonnes.
More than 150 long-finned pilot whales died, with many sustaining deep cuts after thrashing onto rocks, after beaching themselves on the remote west coast of Tasmania state in November.
Tasmania, Australia's southern island state, experiences about 80 percent of whale beachings in the country, a phenomenon so far unexplained by science.