Forecasters predict hazardous rush-hour driving conditions after 10cm of snow falls in higher areas of country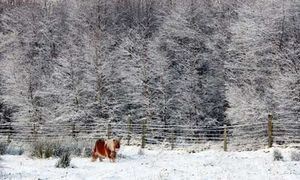 Motorists are facing hazardous driving conditions today after parts of the UK were hit by heavy snow.
Scotland and northern England were the worst-affected, while Northern Ireland and Wales also saw snowfall.
The weather forecaster MeteoGroup said about 10cm of snow was expected to fall in higher areas of northern England and Scotland.
There may be a slight easing of the extreme conditions today with temperatures set to rise slightly, though much of Britain is forecast to experience rain and wind.
MeteoGroup said last night's big freeze was caused by rain moving in from the west and turning to snow as it met the cold air.
The forecaster Rachel Vince said: "As this rain moves in it is bringing in some milder air. In most places it will have turned to rain during the morning.
"Only the hills of northern England and eastern parts of Scotland will see much snow lying on the ground later today. Elsewhere, rain will have washed the snow away.
"Once the rain clears away eastwards it's going to be a windy mix of sunshine and showers."
Temperatures in England may rise to 10C. The average temperature will be about 7C-8C.
But forecasters are still warning of difficult conditions, especially during rush hours in northern England and Scotland, with the snow causing slippery roads and poor visibility.