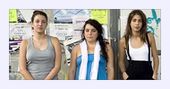 The daughter of an ex-Mossad deputy has refused to do military service because of Israel's killing of Palestinian civilians.
Omer Goldman, daughter of Natalin Granot, former deputy to the head of Mossad, was imprisoned on Tuesday after she, along with two other Israeli women, Miya Tamarin and Tamar Katz, refused to enter the army.
"I feel obligated morally, to refuse," Goldman said.
"I often traveled to the occupied territories, and saw with my own eyes, what the Israeli army is [doing] there are things [with] which I can not cooperate."
Goldman condemned Israeli for limiting Palestinian's freedom of expression, restricting their movements and lacking concern for Palestinian lives.
The three young women arrived at a military base accompanied by about a hundred demonstrators with placards carrying anti-occupation messages.
"We do not want to participate in the occupation, Enough of occupation", the protesters said.
On Saturday, Israeli troops shot dead a 14-year-old Palestinian south of the West Bank city of Nablus - a week after troops killed another Palestinian teenager in the village of Tuqua, south of the West Bank town of Bethlehem.
Teenagers, women and children are often among the victims of Israeli violence against Palestinians both in the West Bank and Gaza Strip.