Uttar Pradesh forest authorities are at a loss to explain the mysterious deaths of 14 black bucks in Agra and Kanpur districts of the state.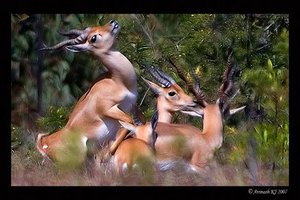 ©Avinash K J
In the last two weeks, 14 black bucks have died in the state. While six died in Kanpur zoo, eight lost their lives in a zoological park in Sikandra in Agra, according to officials.
The latest deaths took place Wednesday in which three black bucks died in Agra.
'It is quite surprising why black bucks are dying in the state,' said B.K. Patnaik, principal chief conservator of forest (wildlife).
'We have sought already assistance from the Indian Veterinary Research Institute, Bareilly,' he added.
Black bucks are mainly found in India and also in parts of Pakistan and Nepal.
Black bucks were enlisted as a protected animal after they were reported to be extinct in many areas.
In Uttar Pradesh, black bucks are mainly found in the western region. There are about 5,000 black bucks in the state.