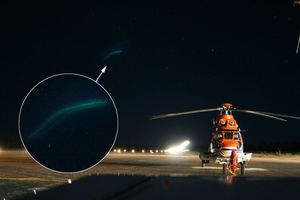 ©Marcus Johnson
Marcus Johnson took this photograph... UFO or lens flare?
Marcus Johnson, 39, took this photo of a chopper at the Truscott airstrip in northeast Western Australia, just over the NT border, last week.
On closer inspection he discovered a strange object could be seen flying through the air behind the helicopter.
Mr Johnson, a pilot from Yamba in New South Wales, said he had no idea what the strange lights were.
"It's pretty extraordinary, looking at it,'' he said.
"If you zoom right in you can clearly see a trail of dots going across the sky.''
The chopper pilot said he took the picture at 6am when the sky was still dark.
"I haven't been working out there for very long, but I can't say I've ever seen anything like that before,'' he said.
"First of all I thought it was just a reflection but there's nothing for the light to reflect off.
"There's another guy out there who's a professional photographer and a bit of a sceptic and I showed it to him as well and he didn't know what it could be.''