About Mikey
Name: Michael Franzl

Michael Franzl has a master's degree in mechatronics. After working in the area of technology and economy, he started his own company in software engineering. Today he is developing modern internet applications, amongst them the radio platform of Sott.net. When the time permits, he likes to write articles for Sott.net to illuminate topics from new angles.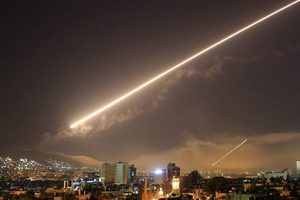 Syrian air defense systems protecting Damascus - the oldest continuously-inhabited city on Earth - from Western airstrikes, 14 April 2018
All truths are easy to understand once they are discovered; the point is to discover them.
- Galileo Galilei
Recent Comments
What's the penalty for hiring illegals?
---
Polio vaccines contaminated with SV40 This is well documented in Edward T. Haslam's 2007 book, "Dr. Mary's Monkey," ISBN 978-1-937584-59-7 This...
---
American politicians are playing with their citizens. No wonder why you conservative who go crazy about illegal aliens. Politicians are...
---
What's the point of articles like that? Some illegal immigrant do fuck up like this man above, but that doesn't mean he's representative of all...
---
Why do we need it I thought male sperm was at an all time low anyways