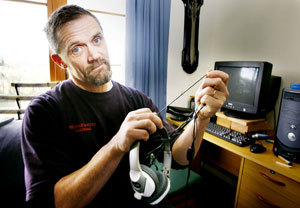 ©Mark Dwyer / Taranaki Daily News
Mike Woodhead with his lightning-zapped computer gear after the weekend strike.
Next time Taranaki man Mike Woodhead uses his computer he'll get a weather forecast first. A bolt of lightning which struck near his Ohangai home south-east of Hawera on Saturday night has put the 36-year-old local school caretaker on edge.
He was using the family computer with earphones on, his daughter Leah standing next to him, when there was a huge flash in the middle of a storm.
"I felt a shock which was 20 times worse than an electric fence pulse," he said. "I felt it hit my heart. I was worried it might stop beating," the Tiri Rd man said. "It went through me, through the couch and into my wife Ellen who was sitting on the couch."
That type of excitement is the last thing Ellen needs as she is 13 weeks pregnant.
"I nearly head-butted her," he said. "If the couch hadn't stopped me I reckon I'd have been flung across the room."
A tiny bared section of headphone lead wire and a blown light bulb appear the only damage.
However, the bolt about 7.45pm blew a fuse in the transformer up the road.
It travelled into the Woodhead house via the service line and after that nobody really knows what happened.
The Metservice says at least 100 lightning flashes struck Taranaki that night, mostly between Stratford, Manaia and Waverley.
Paul King, electrical manager of Greaves Electrical, says a huge amount of energy is released in a lightning strike and its behaviour is never predictable.
"It will take the easiest direct path to earth, but in a house some of it can spread through the whole wiring system.
"You can fit diverter devices to protect equipment, but if it's a really big strike they won't make much difference.
"In this case the people in the house were lucky."