Umnak Island -- The
U.S. Geological Survey
says Okmok Volcano in Alaska is producing more explosions and ash plumes.
The ash is coming through a newly created vent and poses hazards to area air travel.
Scientists are tracking the eruption with seismic and global positioning system instruments on the ground and weather and radar satellites in space. Ash obscures the view inside the volcano's 6-mile-diameter crater.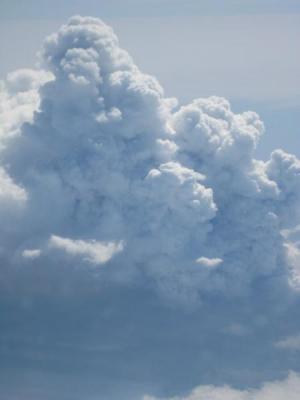 ©Kelly Reeves Alaska Airlines
Eruption of Okmok, image taken on Sunday, July 13, 2008.
The volcano in the eastern Aleutian Islands erupted unexpectedly July 12, sending up a plume that reached 50,000 feet and disrupted flights.
It sent ash down on Unalaska, a fishing community 65 miles to the northeast.
The USGS says activity at Okmok is likely to continue for days or weeks.