Authorities on Wednesday ordered most of the remaining residents of this scenic coastal community to leave after an out-of-control wildfire jumped a fire line and threatened more homes.
New mandatory evacuation notices were issued Wednesday morning for an additional 10-mile stretch along Highway 1, bringing the total length of the evacuated area to about 25 miles of the coast, emergency officials said.
"The fire is just a big raging animal right now," said Darby Marshall, spokesman for the Monterey County Office of Emergency Services.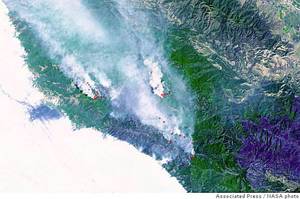 ©NASA photo via Associated Press
Fires near Big Sur are shown in a photo from the Advanced Spaceborne Thermal Emission and Reflection Radiometer instrument on NASA's Terra satellite on Sunday, June 29, 2008. The image combines a natural color portrayal of the landscape with thermal infrared data showing the active burning areas in red. The dark area in the lower right is a previous forest fire.
Firefighters are battling more than 1,100 wildfires, mostly ignited by lightning, that have scorched 680 square miles and destroyed 60 homes and other buildings across Northern California since June 20, according to the California Department of Forestry and Fire Protection.
The lightning-sparked blaze in the Big Sur region of the Los Padres National Forest has destroyed 16 homes and scorched more than 52,000 acres since breaking out June 21. The fire was only about 3 percent contained.
The new evacuation notices means that nearly all of the roughly 850 residents who live along the Big Sur coast from Andrew Molera State Park to Limekiln State Park have been ordered to leave their homes, Marshall said.
Authorities have essentially closed a 25-mile stretch of Highway 1, blocking access to popular resorts, restaurants, shops and art galleries that line the scenic roadway and attract tourists from around the world.
Gov. Arnold Schwarzenegger and the head of the Federal Emergency Management Agency, David Paulison, visited Big Sur on Wednesday for a briefing on firefighting efforts in the hard-hit tourist region.
"This is a very dangerous fire right now because of the wind and because of how dry things are and how early in the year it is," Paulison said in a phone interview from the scene. He spoke from inside a staging-area tent, the wind roaring audibly outside.
Paulison watched as people made what he described as an orderly exit from the region Wednesday afternoon.
"The only saving grace is that this area is not heavily populated like we saw in Southern California last year," he said. "If people evacuate like they're told to, we shouldn't lose any lives. ... My only concern is that people don't take it seriously enough."
The governor announced an executive order that waives replacement fees for birth certificates, drivers' licenses and other critical documents that fire victims may have lost in blazes.
The order also aims to accelerate debris removal and repair environmental damage by "cutting red tape," and asks state tax authorities to help victims file tax extensions and shield them from late fees.
Schwarzenegger on Tuesday ordered 200 National Guard members to report for fire training to begin assisting on the fire lines early next week - the first time the state's troops have been called to ground-based firefighting duty since 1977.
The extra hands are expected to boost the nearly 19,000 personnel currently fighting the fires.
Raging wildfires, from the western edge of the Sierra Nevada to mountains near Big Sur, have created a smoky haze so stifling that some doctors in the San Joaquin Valley say their waiting rooms have been crowding with patients struggling to breathe.
In Southern California, a fire in the southern extension of the Los Padres forest north of Santa Barbara also prompted mandatory evacuations as wind up to 35 mph pushed flames toward homes in the foothills of the Santa Ynez Mountains.
Officials said the fire had burned 200 acres of heavy brush by Wednesday morning and forced the evacuations of about 45 residents near the town of Goleta, about 8 miles northwest of Santa Barbara.
In the Sequoia National Forest east of Bakersfield, crews struggled to contain a 8,200-acre blaze there. Powerful gusts and choking smoke traveling up the steep canyons hampered their progress, and residents of neighboring towns were ordered to evacuate.