Auckland was hit by freezing hail storms just before 6pm and the AA sent out a general road safety warning as a wintry blast gripped much of the country.
Cold southerly winds laced with rain, sleet, hail and snow currently lashing parts of the country are expected to head offshore tonight.
Earlier today snow fell to 200m in Southland and the road warnings were issued for much of the country.
In the South Island State Highway 60 was closed north of Motueka and chains were required west of Oamaru and near Reefton.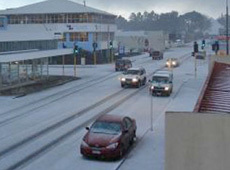 ©Malcolm Gayfer
Thick snow and hail blanketed much of the South Island today.
The Radio Network's head weather analyst, Philip Duncan, said: "Auckland is now seeing gusts to 120km/h, while in New Plymouth winds are gusting to 100km/h".
Mr Duncan said the bulk of the rain squalls are now moving in to the Taranaki and Wanganui regions with thunder, hail and a moderate risk of small isolated tornadoes.
Driving is expected to be hazardous with hail storms across most western and southern regions.
More snow is also forecast on the Desert Road this afternoon.
Another aggressive front will spread up the country tomorrow afternoon and evening with an increased risk of hail, gale force winds and small but potentially destructive tornadoes, Mr Duncan said.
Last year 108 people were killed on the roads between June and August - up 14 per cent on 2006.
ACC said it was estimated 36 of those deaths plus a further 1000 injuries were caused by people going too fast for conditions.
"Most people know the two-second following rule, but on wet roads you should increase that to at least four seconds, and on icy roads leave at least ten seconds between you and the vehicle in front," ACC spokesperson Judy Buchanan said.
Earlier today snow forced four Southland schools to tell their pupils to stay at home.
In Southland, Blue Mountain College secretary Barbara Hanna said they made the decision not to open the school at 6.30 am this morning.
Many of the school's 250 pupils live in remote areas and there were concerns school buses would not be able to reach them.
Pupils were informed of the school's decision via a "snow phone system" run by parents and bus drivers.
"There is a good two inches of snow outside," Hanna said. "We're not sure about tomorrow. The snow is coming and going."
The three other schools closed in the region are Heriot Primary, Tapanui Primary and Waikoikoi School.
The main front was working its way up the South Island, also bringing snow to Fiordland and Otago.
Elsewhere, thundery rain and gale force winds were making winter a reality as two fronts moved across the country.
Snow, hail and thunder have been reported in Christchurch.
South Island weather analyst Richard Green said some parts of the city had complete white out conditions, which he had never seen in Christchurch before.
Southern motorists have been advised to drive to the conditions. The AA website reported that SH93 between Clinton and Mataura had been closed due to snow.
It told motorists to take extreme care on SH8 between Alexandra and Roxburgh due to snow and ice.
Boaties are being warned of gale force winds for Manukau and Waitemata Harbours, Hauraki Gulf and Bream Head to Cape Colville.
This morning Met Service predicted winds to be northwest 30 knots gusting 40 knots. This will rise to 40 knots gusting 50 knots this evening.