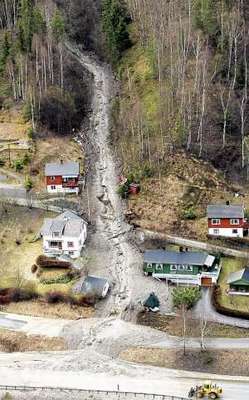 ©KRISTOFFER ØVERLI
A photo from the landslide area of Otta.
Although most of those who were evacuated from their homes in Otta after Friday's landslides have returned home, flood warnings continue in many areas in southeast Norway.
Rains had subsided by Sunday morning, but the warmer weather means the melting of the snow in the mountains is picking up.
The authorities are therefore warning that rivers will reach flood levels within the next few days.
People have thus been asked to secure property and valuables, and move belongings from cellars and prepare for what could be one of the worst floods in 5 to 10 years.
Already, many county roads in Hedmark and Oppland are closed because of landslides and floodings, Norwegian Broadcasting Corp NRK reports.
However, the state highway E6, which was closed by Friday's landslide in Otta, has been reopened.