CHEYENNE, Wyo. - Vacationers will have fewer places to pitch their tents this summer in Colorado and Wyoming, and they can place the blame on bugs.
The U.S. Forest Service has closed some popular campgrounds in the two states because of concern that trees killed by the bark beetles that are ravaging forests across the West could topple onto unsuspecting visitors.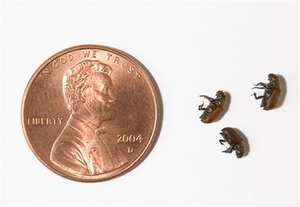 ©AP Photo/Troy Maben,File
Dead bark beetles are displayed next to a penny in the Wyatt Williams's lab at Boise State University in Boise, Idaho, in this Aug. 24,2006, file photo. As bark beetles ravage millions of trees across the West, U.S. Forest Service officials in Colorado and Wyoming have closed some popular campgrounds out of concern the infested trees will come crashing down on visitors.
Bark beetles have always been a part of forests in the West, but warming temperatures and an abundance of aging lodgepole pines that haven't been thinned by fires have allowed populations of the hungry insects to explode. They now infest nearly 3,600 square miles of forest in the two states.
Swaths of 60-foot trees killed by the quarter-inch bugs may be easily toppled by wind or other disturbances.
"If they were to fall on a tent camp, they would probably kill or injure the people inside," said Francisco Valenzuela with the Forest Service in Washington, D.C.
The Forest Service recently announced the closure of 21 campgrounds and recreation sites in Colorado and Wyoming for the summer. Seventeen other sites will open late, after dangerous trees are removed.
Forest Service officials say campgrounds in other parts of the country have been closed because of beetle infestations in the past, but never on the scale seen this year in Colorado and Wyoming.
"I would think that we would have more in the future just because the trees that have been killed are getting older, and as they get older there's more of a chance that they will fall down," said Mary Ann Chambers, a spokeswoman for the Forest Service's Rocky Mountain Region.
Forests in Montana, Idaho, Utah, Nevada, New Mexico and Arizona also have been affected by bark beetles, but Forest Service officials say there are no immediate plans to close any of their campgrounds this summer.
Some bark beetle infestation also has been noticed at lower elevations of Yellowstone National Park in Wyoming, but park officials say campgrounds there are not yet affected.
Dead trees always are a safety hazard for hikers and campers, said John Gookin of the National Outdoor Leadership School, which teaches wilderness skills at 11 spots around the world including Wyoming.
School instructors use the term "widowmaker" to describe the dead trees.
"Just giving them that name trains campers to stay away from the impact area," Gookin said. "You just don't hang out underneath them."
The Forest Service does not have an estimate on what it will cost to remove dead trees at the closed campgrounds.
However, the biggest tree removal project - taking an estimated 9,000 trees from around the reservoir, camp sites and picnic areas at the popular Hog Park campground in the Medicine Bow National Forest of southern Wyoming - could cost as much as $900,000, officials said.
Visitors will have access to the lake but the 50-site campground will be closed, said Steve Best, district ranger for the Forest Service's Brush Creek-Hayden District.
The Forest Service intends to plant new trees but it's likely the campgrounds will "look pretty bare for a while," Best said.