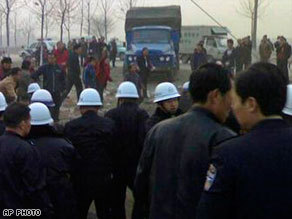 ©AP Photo
Officers in helmets face off with residents of Wanba village in Tianmen, central China's Hubei province.
Authorities have fired an official in central China after city inspectors beat to death a man who filmed their confrontation with villagers, China's
Xinhua
news agency reports.
The killing has sparked outrage in China, with thousands expressing outrage in Chinese Internet chat rooms, often the only outlet for public criticism of the government.
The incident has also alarmed advocates of press freedom, who say municipal authorities had no right to attack a man for simply filming them.
Police have detained 24 municipal inspectors and are investigating more than 100 in the death of Wei Wenhua, a 41-year-old construction company executive,
Xinhua
reported on Friday.
The swift action by officials reflects concerns that the incident could spark larger protests against authorities, whose heavy-handed approach often arouses resentment.
On Monday Wei happened on a confrontation in the central Chinese province of Hubei between city inspectors and villagers protesting over the dumping of waste near their homes.
A scuffle developed when residents tried to prevent trucks from unloading the rubbish,
Xinhua
said.
When Wei took out his cell phone to record the protest, more than 50 municipal inspectors turned on him, attacking him for five minutes,
Xinhua
said. Wei was dead on arrival at a Tianmen hospital, the report said.
Qi Zhengjun, chief of the urban administration bureau in the city of Tianmen, lost his job over the incident,
Xinhua
reported Friday.
The beating was condemned online. "It's no longer news that urban administrators enforce the law with violence," said an editorial on the news Web site
Northeast.
"But now someone has been beaten to death on site. It has brought us not surprise, but unspeakable anger."
Chen Yizhong, a columnist on
Xinhua's
Web site, asked why violence by city inspectors is allowed to continue. "Cities need administration, but urban administrators need to be governed by law first," he wrote.
An international press freedom group, Reporters Without Borders, protested the killing.
"Wei is the first 'citizen journalist' to die in China because of what he was trying to film," the group said in a statement.
"He was beaten to death for doing something which is becoming more and more common and which was a way to expose law-enforcement officers who keep on overstepping their limits."
Associated Press
contributed to this report.