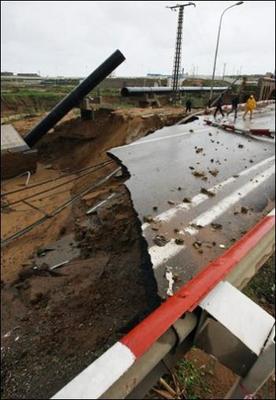 ©AFP
Algerian officials and rescuers check a collapsed bridge.
Flooding from five days of heavy rains in northern Algeria has claimed 11 lives and three more people are missing feared dead, officials said Wednesday.
Four people died in the northwestern Mediterranean city of Oran when their old houses collapsed on Tuesday and Wednesday, head of civil protection Houari Saadaoui told public television.
Their deaths brought to 11 the number of people confirmed to have died in weather-related incidents since the heavy rains began to sweep across northern Algeria on Saturday.
Prime Minister Abdelaziz Belkhadem witnessed the damage for himself on Tuesday evening as he toured the capital's western suburb and said a child had been killed in the Casbah old town.
East of Algiers, in the Boumerdes area, officials said two people were killed due to the floods earlier in the week.
A 15-year-old boy was swept away by a flooded river and found later Tuesday at Sidi Daoud in the same region, they said.
An elderly woman was killed when her house in Oran collapsed on Monday night, said civil protection officials.
On Sunday, two people died and eight were injured when a bridge at Beni Messous, in the western suburbs of Algiers, gave way during the heavy rains.
Three people are also missing feared dead in Dellys, near Boumerdes, after being carried away by floodwaters on Tuesday.
The downpours, which in the north of the country have been almost continuous since Saturday, have made it virtually impossible to use the main roads leading to Algiers.
The main Algiers-Tipaza motorway was closed because of flooding late Monday and motorists on main roads experienced long tail backs on Tuesday.
Forecasters were predicting further heavy downpours on Wednesday and Thursday in coastal regions and inland areas in the centre and west of the country.
Flooding in November 2001 in Algeria left more than 800 people dead and caused major damage in certain parts of the country.