Death Toll Reaches 2,206 in Bangladesh Cyclone As Hundreds of Thousands of Survivors Await Aid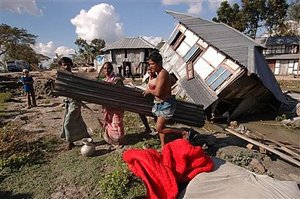 ©AP Photo/ Pavel Rahman
Cyclone affected villagers carry corrugated iron sheeting to repair their damaged house in Potuakhali, 152 kilometers (95 miles) south of Bangladesh's capital Saturday, Nov.17, 2007. The official death toll from a savage cyclone in Bangladesh reached 1,723 on Saturday as military helicopters and ships joined rescue efforts in the wake of the deadliest storm to hit the country in a decade.
The death toll from a cyclone that devastated Bangladesh has surpassed 2,200, officials said Sunday, while rescuers struggled through blocked paths to reach hundreds of thousands of survivors awaiting aid in wrecked homes and flooded fields.
The government deployed military helicopters, naval ships and thousands of troops to join international agencies and local officials in the rescue mission following Tropical Cyclone Sidr. The U.S. and other countries also offered assistance.
At least 2,206 people have died since the storm struck Bangladesh on Thursday,
said Selina Shahid of the Ministry of Food and Disaster Management.
The toll could rise still higher as more information comes in from battered regions.
Disaster Management Secretary Aiyub Bhuiyan met Sunday with representatives from the United Nations and international aid groups to discuss the massive relief effort.
"The donors wanted to know about our plan and how they can come forward to stand by the victims," Bhuiyan told reporters. "We have briefed them about what we need immediately."
Rescuers struggled to clear roads and get their vehicles through, but many found the way impassable. "We will try again ... on bicycles, and hire local country boats," M. Shakil Anwar of CARE said from the city of Khulna.
At least 1.5 million coastal villagers had fled to shelters where they were given emergency rations, said senior government official Ali Imam Majumder in the capital, Dhaka.
The worst-hit area was Bagerhat district, where 610 people died, said Ashraful Zaman, an official at a cyclone monitoring center in Dhaka.
"We have seen more bodies floating in the sea," fisherman Zakir Hossain from the country's southwest said, after reaching shore with two decomposing bodies he and other fishermen had found on their way.
Sidr's 150 mph winds smashed tens of thousands of homes Thursday in southwestern Bangladesh and ruined crops just before the harvest season. Ferries were flung ashore like toy boats.
Aid organizations said they feared food shortages and contaminated water could lead to widespread problems if people remain stranded.
Storms batter impoverished, low-lying Bangladesh every year, often killing large numbers of people. This time a government early warning program saved a vast number of lives, U.N. Resident Coordinator Renata Dessallien said in a statement.
However, property damage was massive. Many evacuees who returned home Saturday found their bamboo-and-straw huts flattened.
"We survived, but what we need now is help to rebuild our homes," said Chand Miah of the small island of Maran Char.
An estimated 2.7 million people were affected and 773,000 houses were damaged, according to the Ministry of Disaster Management. Roughly 250,000 cattle and poultry perished, and crops were destroyed along huge swaths of land.
The government said it has allocated $5.2 million in emergency aid for rebuilding houses.
Several countries pledged to help.
The U.S. government has provided $2.1 million in initial emergency relief, White House press secretary Dana Perino said, noting that President Bush offered condolences to victims.
She said that the ships USS Essex and the USS Kearsage were en route to Bangladesh to help with relief operations, and that the U.S. would airlift 35 tons of non-food items such as plastic sheeting and hygiene kits.
The United Nations released $7 million, while the German government offered $731,000. The European Union released $2.2 million, and British officials said they would give $5 million.
The Rome-based World Food Program was rushing in food, and the Bangladesh Red Crescent Society was sending thousands of workers to stricken areas.