Military trucks hauled bottled water, food, and clothing to Mexico's flooded Gulf coast Friday, as rescue workers in helicopters and boats worked furiously to retrieve thousands of victims stranded on rooftops.
With flooding across nearly all of the Gulf coast state of Tabasco and food and drinking water scarce, health officials warned of possible epidemics of cholera and other waterborne diseases.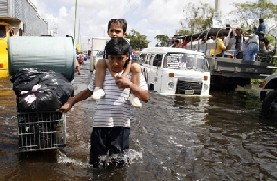 ©America Rocio/AP
These children are among tens of thousands of people fleeing flooded areas in Tabasco, Mexico.

President Felipe Calderón said Thursday that floods in southeastern Mexico this year are "one of the worst disasters in the history of the country."
An estimated 900,000 people had their homes flooded, damaged or cut off, and as of Thursday, 300,000 still had not been rescued, Tabasco Governor Andrés Granier said.
Police, soldiers, and military workers were still trying to reach the stranded.
It was becoming difficult to find a safe place to put refugees. Officials improvised, turning parking garages and any other dry structure into temporary shelters. Dozens of hospitals and medical centers were also flooded, complicating treatment of the sick.
Health officials warned of the risk of a cholera epidemic, although no cases had been reported.
Tabasco state floods every year around this time, and many poor, low-lying neighborhoods have grown accustomed to spending six months a year with the first floor of their home underwater.
But this year's flooding has taken even flood-weary residents by surprise, inundating the state capital of Villahermosa and leaving the city's famous Olmec statues with water up to their enormous stone chins.
"The situation is extraordinarily grave: This is one of the worst natural disasters in the history of the country," Mexican President Felipe Calderón said in a televised address Thursday night.
Several Mexican banks established special accounts into which residents could donate money for the victims, many of whom have lost everything, including their homes.
"Nobody can stand around with his arms crossed," Calderón said. "We can't and won't abandon our brothers and sisters in Tabasco."
A week of heavy rains caused rivers to overflow, leaving at least 70 percent of Tabasco - and 80 percent of the capital - underwater. At least one death was reported.
Nearly all services, including drinking water and public transportation, were shut down in Villahermosa.
Weather forecasters predicted more rain in the coming days. The flooding was not related to (Hurricane Noel), which pounded the Caribbean before moving north.
The Grijalva River, one of two large waterways ringing Villahermosa, has risen more than six feet (two meters) above its "critical" level and gushed into the city's center. Authorities said some of the rivers were continuing to rise.
In Villahermosa dozens of survivors anxious about relatives and friends crowded outside government offices seeking assistance. Others waded despondently through waist-deep water or wandered along highways leading out of the capital.
"We lost everything," said Manuel Gonzalez, whose house was swallowed by the floodwaters early Thursday. "I left without one peso in my pocket, and I can't find my siblings."
The state of Chiapas, which borders Tabasco to the south, also reported serious flooding, with officials there estimating that more than 100,000 people had been affected.