With a near-record drought parching the state, the coming winter will be critical in determining whether Maryland faces even more disastrous crop failures for farmers and strict watering curbs for suburban homeowners in 2008.
And while there may be showers Tuesday, the prospects for real drought relief in the coming months appear slim.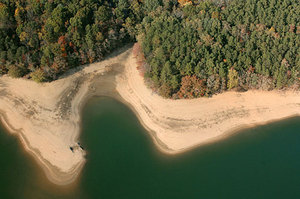 ©photo by Elizabeth Malby
Low water levels at Prettyboy Reservoir are the result of the current drought. "We're looking at the second-driest May-to-September on record, and the records go back to 1895 -- 113 years," said Richard Heim of the USGS.
"They're forecasting warm temperatures and dry conditions in the Southeast drought areas at least through spring," said Richard Heim, a meteorologist at the National Oceanic and Atmospheric Administration's National Climatic Data Center.
If so, Marylanders will be facing more headaches in the new year. Measurements in streams and groundwater wells are hitting record lows in parts of Maryland, hydrologists report.
"If we don't start to conserve water, and we don't get the rain, we could be forced to restrict water use next year. So what we save now can pay off in the future," said U.S. Geological Survey hydrologist Wendy McPherson.
Farmers are already looking at winter grain crops that have failed to germinate in the dry soil. And water levels in area reservoirs have continued to fall since state officials declared a drought watch in 15 Maryland counties 2 1/2 weeks ago.
But the news isn't all bad. Boordy Vineyards' President Rob Deford is bubbling about the best wines of his 27-year career in Maryland vineyards, thanks to dry, sunny weather and timely showers when it counted. But even he wants the drought to end with ample rainfall -- or snow -- over the winter.
"The future is uncertain," he said. "We've got to get the groundwater recharged for the coming year for the vines to get a good, healthy start on the season."
Maryland has developed a serious thirst. At BWI, precipitation for the year is more than 10 inches short of the long-term average. Although the drought's roots go back to mid-April, more than half of the deficit has accumulated since Sept. 1.
Barely three-quarters of an inch has fallen at the airport since then. A season that was merely average would have produced more than six inches of precipitation.
So how does this drought stack up against others? That depends on where you are -- some communities are already living with watering bans -- and how you measure it.
Statewide, said Heim, "we're looking at the second-driest May- to-September on record, and the records go back to 1895 -- 113 years." The driest was in 1930.
The U.S. Geological Survey reported record lows in six rivers and five groundwater monitoring wells in Central Maryland and the Eastern Shore last week. Many others are close to record lows.
Piscataway Creek in St. Mary's County dried up completely by the middle of this month, the first time that has happened since record-keeping began there in 1986.
The other record-low stream flows were recorded on the Choptank River near Greensboro, the Monocacy River near Bridgeport, Nassawango Creek near Snow Hill, the Patuxent near Unity, and Winters Run near Benson.
Well water sank to new lows in Charles, Carroll, Montgomery, Washington and Wicomico counties.
"I would say it's looking as severe" as the 2001-2002 drought, said the USGS's McPherson.
Eighty-seven percent of Maryland is currently experiencing "moderate to severe" drought conditions, according to the U.S. Department of Agriculture's Drought Monitor, which considers agricultural factors such as stream flow, ground water, soil moisture and damage to vegetation.
Only Garrett County reported near-normal conditions. "Moderate" drought persists across much of the northern tier of counties, but fortunately for those affected, the growing season is about over, and evaporation rates are slowing.
Maryland's drought is a milder extension of the "extreme" to "exceptional" drought conditions prevailing across much of the Southeast, from Alabama and northern Georgia to Tennessee, Kentucky the Carolinas and southern Virginia.
Another much-used drought measurement is the Palmer Drought Index, which uses rainfall and temperature to gauge long-term changes in "meteorological" drought conditions.
On the Palmer scale, most of Maryland east of Garrett County is experiencing "extreme" drought, the most severe category.
For now, Baltimore's 1.8 million water customers are not hearing any pleas to conserve. They were not included in the voluntary "drought watch" announced by the state on Oct. 5, and public works officials continue to express confidence that mandatory curbs won't be needed.
Since Oct. 5, the water levels in Baltimore's three reservoirs have slipped by more than 4 billion gallons -- from 75 percent of capacity to 69 percent.
That's still more than 10 percentage points higher than the point at which the city turned to the Susquehanna River for extra water in 2002 and before that in 1999.
"Once we get to 60 percent, and we haven't gotten any recovery in the reservoirs, we will start making plans for restrictions, as well as going to the Susquehanna," Winfield said.
That decision is still several weeks away. Meanwhile, the city has begun testing the first of the three pumps at the Deer Creek pumping station that could be called on to move Susquehanna water to Baltimore.
If that happens, the city will mix the river water with supplies from Loch Raven Reservoir.
Already, farmers hard-hit by the summer's drought are watching with concern as some of their winter grain crops sit in the fields without germinating, particularly those fields seeded by airplane. "It's so dry, some farmers started [planting] and then stopped," said Buddy Hance, deputy secretary of agriculture and a Calvert County farmer.
"If this continues into next spring, and it's too dry to plant a crop," he said, "there will be people who will ask, 'Is it really worth the hassle?' I heard a farmer tell me the other day, 'You can take one of these [droughts], but you can't take two in a row.'"
In Wicomico County, Maryland agricultural extension educator Eddie Johnson said farmers are watching to see whether the winter crops they planted this fall -- to hold the soil through the winter and provide a cash crop in June -- will get out of the ground.
"If it doesn't rain, we're in a jam," he said. "Some cover crops are not coming in as well as we thought."
Rob Deford feels their pain. He does grow crops other than grapes on his farm, and they fared poorly. But he's never seen a year like this one for grapes.
After tasting the new chardonnay Monday, he reported "the most body, the most flavor I've ever tasted in our wines. I can't say enough good things about this year."