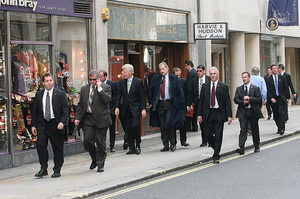 ©Daily Mail
Bill Clinton's stroll through London on Thursday had more in common with Quentin Tarantino's Reservoir Dogs than a low-key shopping outing
Whoever said it's lonely at the top, it wasn't Bill Clinton.
The former President is constantly surrounded by an entourage of more than 20 bodyguards.
So when he attended a book signing in London on Thursday, he brought a crowd of his own.
The one-time US leader looked like he was auditioning for a part in Quentin Tarantino's
Reservoir Dogs
.
The burly men in suits fanned out around 61-year-old Mr Clinton as he went window shopping in Jermyn Street before arriving at the Piccadilly branch of Waterstone's.
Fortunately for the former resident of the White House, they turned out to be heavily outnumbered by 1,000 or so fans who bought his book
Giving - How Each of Us Can Change the World.
Mr Clinton stood down in 2001. Former Presidents and their spouses are entitled to be guarded by the Secret Service for ten years after they leave office.
He flew to Britain to attend a fundraising meeting at a private house in Windsor for Democrats Abroad.
His wife Hillary is a frontrunner to win the Democrats' presidential nomination.