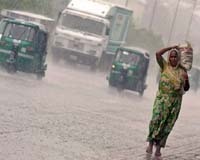 ©n/a
Kolkata, India - At least 88 people have died in rain-related accidents in eastern India since the start of September with tens of thousands stranded in state-run relief camps, officials said.
Rain-related accidents in the state of West Bengal have claimed 48 lives there in recent days, a minister told AFP.
"The death toll rose to 48 today with 19 more people dying of snake bites, electrocutions and wall collapses," said relief minister Mortaza Hossain on Saturday.
"More than three million people have been displaced by the flooding in eight districts."
Some 200,000 homes have also been destroyed, state officials said, but added that the situation was under control with boats rescuing people from roof-tops and houses.
The situation in eastern Orissa state was also grim with 40 dead this month, many in recent days, Manmohan Samal, minister for revenue and disaster management in the state, told AFP Friday.
The floods had cost the Orissa exchequer some 275 million dollars, the state government said, but no new deaths were reported from the state Saturday and rains appeared to be diminishing.
More than 3,100 people have been killed by rain and floods in India since the start of the June to September monsoons, the latest figures available from India's home ministry showed.