Winds approaching hurricane strength wreaked havoc on people and property in Labrador towns on Thursday.
Winds gusting up to 117 km/h on Thursday evening knocked down trees, fences and power lines in Happy Valley-Goose Bay.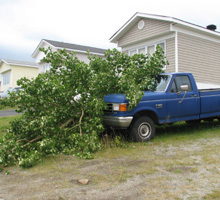 ©53 North
Residents in several Labrador communities woke up Friday to find many trees had been uprooted during heavy winds.
Some residences were without power Friday morning.
"This is unreal," said resident Terry Powell, who took his chainsaw to help neighbours save a home threatened by a large, uprooted tree.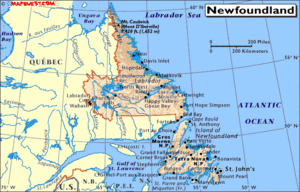 ©Mapquest.com
"
This is the first time in 25 years I've seen wind like this
."
Powell's house had some siding stripped off, while a neighbour's fence was ripped down.
The winds created clouds of drifting sand that blew down the town's streets, creating blinding conditions for drivers and pedestrians.
The roof of a warehouse crumpled as it was ripped from the building and dropped into a nearby parking lot.
Falling trees cut off power to nearby communities.
Dawn Dalley, a communications official with Newfoundland and Labrador Hydro, said power will remain out in North West River and Mud Lake until Friday afternoon.
Power was restored to Sheshatshiu overnight, while some individual customers in Happy Valley-Goose Bay were without power on Friday morning.
Additional repair people are headed to the area from Wabush, she said.
Kerry Rideout, a seven-year veteran at the civilian weather office at Canadian Forces Goose Bay, confirmed the winds were nearing hurricane strength.
"A couple of guys came in from work as well and we talked about it and we've never seen winds this high," he said.