Between the 16.45 and 17.15h a big thunderstorm of hail, causing damages in cars and windows of housings. The climatology this evening has surprised us. Minutes before 17:00h, the sky was darkened prelude of the thunderstorm that was approaching. A waterspout of hail, with pieces of ice the size of a chick-pea, and an intense rain that fell down on Torrevieja, did not last very long, but it was sufficient to cause damages to vehicles and generated problems of traffic.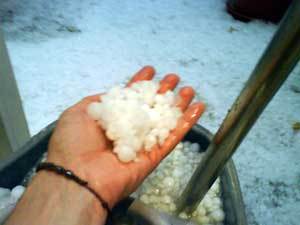 ©torrevieja.com
It is too soon to do inventory of the damages that the hail thunderstorm provoked, but, intensity of the rain, flooded garages and basements in very little time. The hail ravaged causing damage of windows to several houses and cars.
As informed by the Fire station of Torrevieja, numerous calls were received in a short spacing of time, mostly for floods in places and garages, and having to rescue a bus full of passengers' that remained caught in the precincts of the beach of the priest. ("Playa del Cura")
Also they had to attend to the problems of traffic generated in the passage of the beach of the madmen, ("Playa de los Locos") where the sewers were not apt to swallow such a quantities of water.
Other advises like a child caught in an elevator, have happened along approximately 1 hour of intense rain.