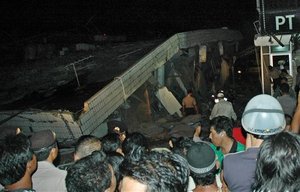 ©AP Photo/Abdilla
Residents and rescuers inspect a building destroyed by earthquake in Padang, Sumatra island, Indonesia
JAKARTA, Indonesia - A powerful earthquake shook western Indonesia for the second straight day Thursday and triggered a tsunami alert, meteorological agencies said. The latest tremor was also felt in neighboring Singapore, causing tall buildings to sway.
On Wednesday, a strong earthquake shook Southeast Asia, collapsing buildings, killing at least 5 people and injuring dozens in Indonesia. That triggered small waves off the coastal town of Padang in Sumatra, the island ravaged by the 2004 tsunami disaster.
The U.S. Geological Survey said Thursday tremor had preliminary magnitude of 7.5 and it was centered 117 miles from Bengkulu, a city on Sumatra island, at a depth of 20 miles.