Tropical Storm Erin stubbornly held together as it passed through Oklahoma early today, causing heavy flooding in the Watonga area and flash flooding in Lawton and El Reno.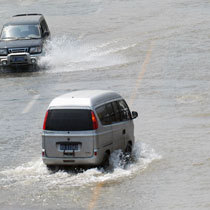 ©Getty Images
Several people were rescued from their homes or stalled cars in Watonga and Lawton. Rainfall amounts exceeded 7 inches in those areas, according to the state Emergency Management Department.
Interstate 40 remained closed in both directions at 7 a.m. today near El Reno. Shelters are open in Lawton and El Reno.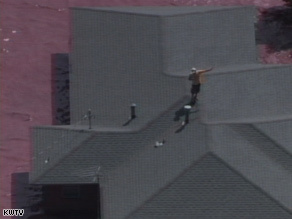 ©KWTV
A man waves to a news helicopter from the rooftop of a home in Kingfisher, Oklahoma, on Sunday.
No serious injuries were reported, said Michelann Ooten, a spokeswoman with the Emergency Management Department, which is in communication with county emergency management directors in the affected areas.
The American Red Cross has opened a shelter in Lawton at Cameron Baptist Church, 2621 C Ave. A shelter is also opened in El Reno at Sacred Heart Church in the 200 block of South Evans.
The state Transportation Department reports east- and westbound I-40 is closed in Canadian County because of flooding. Eastbound traffic is diverted at I-40B. Westbound traffic is being stopped just east of U.S. 81. U.S. 81 is closed between I-40 in Canadian County in El Reno and State Highway 152 in Union City.
Travel is discouraged in many areas and motorists are urged to obey road-closing barricades. It only takes a minimal amount of moving water for cars to be swept away and there may be unseen damage to the road, Ooten said. Motorists who encounter flooded roads should turn around and find an alternate route.
Numerous swift-water rescues occurred early today in Watonga, Ooten said. Several homes have been flooded. Strong winds damaged buildings at the airport. The armory also received damage, she said.
The Greenfield Fire Department reported having more than 2 feet of water in its station.
In Lawton, six people were rescued from Ninth Street and I Avenue and four families were rescued in the 1500 block of Lincoln Street, Ooten said. The Habitat Apartments were under mandatory evacuation because of a power outage and rising flood waters.
Kiowa County emergency management officials report damage from a possible tornado Saturday evening, Ooten said. A large barn was destroyed about 4 miles east-northeast of Hobart. Also, several power poles were snapped with downed power lines and several trees uprooted 4 miles east-southeast of Hobart.