Flooding in New York's subway lines ground the city's morning commute to a halt on Wednesday, angering New Yorkers who are facing rail and utility fee hikes to support an aging infrastructure.
Every subway line into Manhattan was affected by flooding after a severe predawn storm sent roofs flying, toppled trees, submerged cars and inundated subway stations.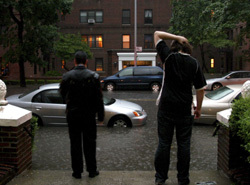 ©AP/Shahrzad Elghanayan
Residents look at flooding outside their building in the Queens borough of New York early Wednesday.
"Riders are stunned that the (subway) system is so vulnerable to rain," said Gene Russianoff, a spokesman for The Straphangers Campaign, a transit advocacy group. "It's not like we live in the Gobi Desert."
The weather caused one death when a woman's car, trapped by flooding, was struck by another vehicle, Mayor Michael Bloomberg said at a news conference.
Power outages afflicted all five city boroughs, leaving 14,000 customers without electricity at the height of the storm, utility company Consolidated Edison said.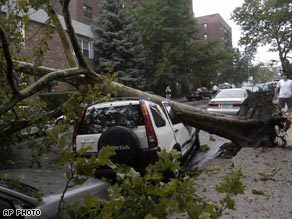 ©AP
Strong storms brought down a tree onto an SUV in Brooklyn, New York.
Parts of Brooklyn bore the brunt of the storm with 40 houses and up to 200 cars sustaining serious damage, Bloomberg said. The National Weather Service was trying to determine whether a tornado had touched down.
None of the city's subway lines -- which normally carry about 7 million riders a day -- was running at full capacity in the morning rush, and several were shut down completely. "I don't know whether God has rush hour in mind when storms hit," Bloomberg said.
By midday, limited service had been restored on some subway lines, but rising temperatures and the possibility of more storms prompted Bloomberg to voice concern that the evening commute could cause additional damage or injuries.
Some suburban trains were also delayed, and the ripple effects snarled the commute for thousands of people who travel to the city from New Jersey and other areas.
CHAOS BELOW
Many people chose to work at home after the city's transit authority urged New Yorkers to delay travel.
But on crowded, hot subway platforms, tempers frayed as sweaty commuters waited for trains to arrive while above ground, packed buses and taxis sailed by throngs of would-be riders.
"I'm kind of calm but people start to shout," said Raminta Sickute, who had spent more than two hours trying to reach her job on Wall Street.
Flights at La Guardia and Newark airports were experiencing average delays of over an hour.
"The infrastructure in New York is just getting so old. Some of the subways were built in 1904," said Fran Valerio, who was stuck between stations on a steamy subway.
"It's just like that steam pipe explosion," she said, referring to last month's explosion of an 83-year-old steam pipe in Manhattan that killed one person.
The explosion brought the public ire down on ConEd, whose reputation was still suffering after a major blackout in the borough of Queens last summer and an even bigger one in 2003.
In July, the transit authority proposed boosting fares in early 2008 to raise $320 million in the face of looming budget shortfalls and possible service cuts. ConEd filed a nearly $2 billion electricity rate increase proposal in May.
Russianoff said the transit agency undoubtedly needs to fund infrastructure improvements. He blamed the increase in weather-related subway service problems on the combination of increasingly extreme weather and a system hobbled by age.
The city's transit agency "is dealing with more frequent harsh weather but the handwriting is on the wall," he said. "This is not going to go away. They're not blind to it, but they're sort of overwhelmed."