Some choose their own. Others think it too morbid. Some boast of achievement. Others want to be modest.
They can be witty or doom-laden, long or short, informative or tell you very little that's useful. Epitaphs, from the ancient Greek literally meaning "on the gravestone" and the text that honours the deceased commonly inscribed on a tombstone, come in many forms.
But in Britain they have one thing in common - they are in danger of being lost for ever. So serious is the situation that today a campaign is being launched to try to record as many as possible before it is too late.
Each year in England 25,000 gravestones are lost and with them the important historical information they contain.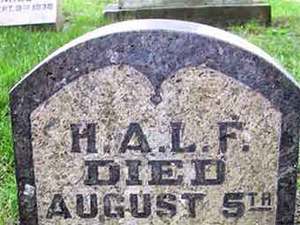 ©waterlooogs.ca
"People want nice tidy churchyards and don't want to mow around higgledy, piggledy gravestones so they move them and they break, or they lay them face down and they get forgotten then broken up for paving stones," said Richard Stuart, the director of the National Archive of Memorial Inscriptions who has made it his mission to record details of as many as possible.
"These inscriptions contain unique information not found anywhere else before the 1840s," he said. "Some people put a lot of effort into thinking exactly what they want on their tombstone. It's their last words on earth and they want them to be just right."
There are an estimated eight million graves in England but so far the details of only two million have been recorded. The number of graves in the whole of Britain could be as high as 20 million.
"The first census where records were extensively preserved was in 1841, and the first Births, Deaths and Marriages register was in 1837," said Mr Stuart. "Before that, there are only the parish registers and some of those don't contain any more information than name and date of death. For those tracing their family, they can't tell whether it's a brother, son or father. A gravestone almost always says 'beloved brother of' or 'beloved son of' ."
The archive, with BBC History Magazine, is launching the Mysterious Memorials competition to get readers to submit the "most surprising, enigmatic or bizarre" historical British gravestone epitaphs. "We have to record this information before it dies out before our eyes," said Mr Stuart.
©unk
Comic Spike Milligan:
"I told you I was ill" [in Gaelic]
Contenders so far include one from Eshness in the Shetlands that reads: "Donald Robertson, born 14th January 1785. Died 14th June aged 63. He was a peaceable, quiet man, and to all appearances a sincere Christian. His death was much regretted which was caused by the stupidity of Laurence Tulloch of Clothister (Sullom) who sold him nitre instead of Epsom Salts by which he was killed in the space of five hours after taking a dose of it."
Another from All Saints Church, Darfield, Barnsley, states simply: "The mortal remains of Robert Millthorp who died September 13th 1826 aged 19 years. He lost his life by inadvertently throwing this stone upon himself whilst in the service of James Raywood or Ardsley, who erected it in his memory".
On a darker note is an entry from All Saints, Wilstead, Beds, which reads: "I you see as you pass by, As you are so once was I, As I am so must you be, Therefore prepare to follow me."
Dave Musgrove, the editor of BBC History Magazine, said: "Gravestones are vital to learning about our family and local history. From accounts of bizarre deaths and witty last words, to highlights of lives lived, personal assaults and biting social commentary, they tell us some fascinating stories of past human life, and that's exactly what we're asking people to find for us".
The best entry will be announced in October's edition of the magazine.