Following a decision of the Rosprirodnadzor environmental protection watchdog, the unique Geyser Valley on Russia's Kamchatka peninsula has been reopened for tourists after a powerful mudslide on June 3.
Tourist paths, destroyed by the mudslide, have been restored, as well as two helicopter landing sites, the head of the department for foreign economic ties and tourism at the regional administration told Tass on Friday.
According to Tamara Tutushkina, the valley has not lost its attractiveness after a natural calamity. Moreover, a lake that has formed in the lower part of the Geysernaya River, has made its landscape even more picturesque.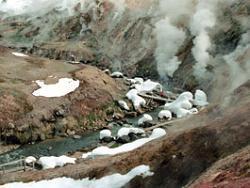 ©n/a
The Geyser Valley, discovered in 1941, remained open for tourists within 16 years since 1991. Up to 3,500 people visited it yearly. This year there will be fewer visitors, specialists say, as many tour operators have changed their plans after the mudslide and a ban on excursions.
A mudslide of five million cubic meters crashed into the valley, blocking the bed of the Geysernaya River. A lake, which formed as a result, flooded some geysers. Two of three helicopter sites, tourist paths and buildings in the lower part of the valley were destroyed.
By the present moment, the situation in the Geyser Valley has stabilized. There is no threat of a new flooding. Most geysers are functioning. However, additional security measures have been imposed for visitors.
The valley is situated about 160 kilometres north of Petropavlovsk-Kamchatsky. Winter temperatures in the Geyser Valley are 15 to 20 degrees higher than outside it.