Firefighters tried to contain several dozen lightning-caused fires in Washington state on Saturday, as more thunderstorms swept through the region.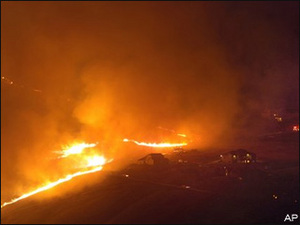 ©AP
The red lights of fire trucks, right, are seen as firefighters prepare defend homes against a fast moving wildfire Friday night, July 13, 2007, in Asotin County, Wash.
Close to 2,700 lightning strikes were reported in Washington and Oregon on Friday and early Saturday, sparking 212 fires, but firefighters quickly contained most of them. Three of the largest remaining fires had burned nearly 43 square miles of grass, sagebrush and farm fields in south-central Washington, and only one had been contained by early Saturday afternoon.
Triple-digit temperatures, low humidity and high winds complicated firefighting efforts, and a fresh round of lightning-packed storms was expected late Saturday.
"We're expecting additional fires coming from the lightning, but they are able to hit the fires pretty hard right now, and they expect to get pretty good containment on 80 percent," said Paul Norman, spokesman for the Northwest Interagency Coordination Center. "Our highest priority is initial attack, just because if you can stop them small, it saves you the effort down the road."
A red-flag warning for high fire danger remained in effect for south-central Washington and the northeast corner of the state, but cooler, more humid weather was expected beginning Sunday.
To the east, three brush fires burning in the Hanford Reach National Monument, near the Hanford nuclear reservation, were 85 percent contained at about 30,000 acres, or 46 square miles.
In northern Idaho near Lewiston, a fast-moving wildfire burned about three square miles, destroyed a home and several other buildings, knocked down power lines and temporarily closed a highway. No injuries were reported.
The blaze, burning mostly on private and Nez Perce Tribe land, reportedly started Friday when a tractor-trailer blew a tire, and flames quickly spread up a hillside, Nez Perce County Fire Chief Ron Hall said. By Saturday the fire had moved into a more remote area, and evacuation orders had been lifted, said Sandy Holt, assistant fire manager for the tribe.
In eastern Oregon near Burns, a complex of fires started by lightning July 6 was about 36 percent contained but continued to threaten about 140 structures.
The largest fire in Utah history, about 120 miles south of Salt Lake City, was 75 percent contained on Saturday after burning more than 568 square miles. Officials said it could be fully contained by Tuesday.
"We made excellent progress on the line" Saturday, Kathy Jo Pollock, a fire incident command spokeswoman, told The Salt Lake Tribune. "It was a really good day."
In Southern California, firefighters continued the struggle to surround a 26-square-mile blaze in steep wilderness in Los Padres National Forest. The fire in the interior of Santa Barbara County was 37 percent contained, a figure that had not changed for days.
Crews were trying to prevent flames from jumping a river and possibly threatening the towns of Tepusquet and Figueroa Mountain. High humidity and calm winds had slowed the blaze in recent days, but firefighters expect it to pick up as temperatures rise this weekend, fire information spokesman Tony Guzman said.
Meanwhile, 911 calls released Friday show that response to last month's fire on the south rim of Lake Tahoe was delayed seven to nine minutes because two California Highway Patrol dispatchers had dismissed the earliest reports. The fire ultimately destroyed 254 homes and burned 3,100 acres of mountain wilderness.
At least five callers were told the fire was a controlled burn, purposely set to clear forests. But there were no controlled burns scheduled in the area then, said Jeff Michael, chief of the Lake Valley Fire Protection District.
Both dispatchers have been reassigned while the highway patrol investigates.