BEIJING - The world's tallest man married a woman who's two-thirds his height and half his age, holding a traditional Mongolian ceremony Thursday with great fanfare at the tomb of Kublai Khan.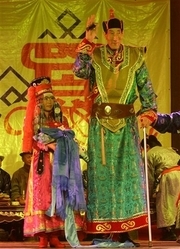 ©AP
The world's tallest man, Bao Xishun, who stands 2.36 metres (7 feet 9 inches), waves at guests and members of the Chinese media as he stands with his bride at his public wedding ceremony at the tomb of Kublai
Bao Xishun, a 7-foot-9 herdsman from Inner Mongolia, met his bride earlier this year after searching high and low, sending advertisements around the world. It turns out he didn't have to look far - 5-foot-6 saleswoman Xia Shujian hails from his hometown of Chifeng.
Bao wore a specially designed light blue gown topped with a gold vest, and rode to his bride's camp in front of the tomb in a cart pulled by two camels, AP Television News reported. A limo followed the cart.
In keeping with Mongolian tradition, the bride's attendants tried to "stop" Bao from getting into the camp. But they relented after the giant groom's sincere appeals, and he was offered tea by the bride's relatives, symbolizing that he had been accepted into her family.
He did not kowtow to his parents and in-laws because of his extraordinary height and arthritis in his knees, the official Xinhua News Agency reported.
Bao, 56, and Xia, 28, married in a civil ceremony in March. This time, more than 2,000 people turned out for the ceremonial nuptials, including relatives, locals and a large crowd of journalists.
Bao was confirmed last year by Guinness World Records as the world's tallest person. Xinhua said his growth was normal until age 16, when a growth spurt shot him up to his current height within seven years.
He was in the news in December after he used his long arms to save two dolphins by pulling plastic out of their stomachs.
The dolphins got sick after nibbling on plastic from the edge of their pool at an aquarium in Liaoning province. Attempts to use surgical instruments to remove the plastic failed because the dolphins' stomachs contracted in response to the instruments, Chinese media reported.