Overnight rain and cooler temperatures slowed a South Dakota wildfire, as other fires blackened the landscape in California, Utah, Nevada, Washington, Colorado, Montana and Oregon.
Many of the fires were started by lightning and fueled by dry conditions, made worse by a heat wave that sizzled across the western United States last week.
The South Dakota fire had raced out of a canyon, destroyed 27 houses and killed a homeowner who went back to try to save his belongings, a top fire official said early Monday.
The change in weather gave firefighters a chance to shore up their fire lines, though conditions could shift again for the worse, state wildland fire coordinator Joe Lowe told crews at a morning briefing held in light rain.
"This fire is not over yet," he cautioned. "This fire could come back to life again."
The blaze was started by lightning on Saturday, and by Monday it had covered an estimated 11 square miles (28.5 square kilometers) southwest of Hot Springs. It was 20 percent contained and crews expected to have it fully contained by Thursday.
In addition to the death in South Dakota, smoke from a major Utah fire was blamed for two deaths in a weekend motorcycle accident, and another blaze still active in Utah killed three people last week.
Crews in California's eastern Sierra Nevada gained ground against a fire that had charred at least 34,000 acres (13,760 hectares), or 53 square miles (137 square kilometers), in the Inyo National Forest.
That wildfire was 15 percent contained Sunday after cooler temperatures and lighter wind allowed firefighters to make their first real progress, Inyo National Forest spokesman Nancy Upham said.
The flames skirted the popular John Muir Wilderness and destroyed at least one home. Crews worked to protect major power transmission lines in the area feeding the eastern Sierra front and greater Los Angeles, fire information officer Jim Wilkins said.
A wildfire in the Los Padres National Forest in Southern California blackened more than 6,500 acres (2,630 hectares) in rural hills Sunday in Santa Barbara County.
A water-dropping helicopter crashed near the Los Padres fire and two pilots suffered minor injuries, Santa Barbara County Fire Captain Eli Iskow said.
The biggest wildfire in Utah history had charged across 283,000 acres (114,528 hectares) or 442 square miles (1,145 square kilometers) in the central part of the state.
A fire in southern Arizona had blackened about 3,500 acres (1,416 hectares) in the mountains near the telescope complex at the Kitt Peak National Observatory.
In Nevada, about 1,500 evacuees were allowed home hours after a 25,000-acre (10,117-hectare) wildfire destroyed an electrical substation and several outbuildings, shut down a highway, delayed trains and killed livestock. The fire was 10 percent contained Sunday evening. No injuries were reported.
A 45,000-acre (18,211-hectare) fire in Idaho was contained Saturday, officials said. Crews on Sunday raced to repair fire-damaged transmission lines that threatened to cause rotating power failures.
Hundreds more firefighters due on record-setting wildfire
AP, Jennifer Dobner, 9 July 2007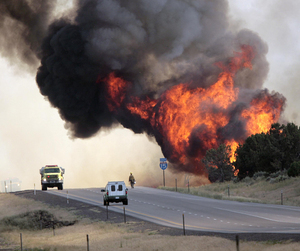 ©SOTT G. WINTERTON / Deseret Morning News
Firefighters in Utah work their way north in the southbound lanes of Interstate 15 as they try to control the Milford Flat fire. Officials said the 250-square-mile blaze was one of the largest in Utah history. It closed two interstates Saturday and trapped travelers in a smoky cloud.
A wildfire in central Utah grew to
more than 468 square miles
Monday as authorities awaited the arrival of hundreds of firefighters to battle the blaze.
The Milford Flat fire, burning about 120 miles south of Salt Lake City, has raced through extremely dry sagebrush, cheat grass and pinion juniper.
"It's still dry with erratic gusty winds. We're still looking at extreme fire danger," said Susan Marzec, a spokeswoman with the U.S. Bureau of Land Management.
Interstate 15 was a priority. If wind conditions are favorable, crews planned to intentionally set a fire to eliminate brush and other vegetation that could burn and threaten the major north-south route.
The goal is to keep the freeway open while firefighters work on the wildfire, Marzec said.
"As is true with fire, you don't do things like that unless the conditions are safe enough," she said. "It's extremely difficult to predict what the winds are going to do."
The fire grew to more than 300,000 acres in Millard and Beaver counties and was sparked Friday by lightning. It is the largest wildfire in Utah history, easily surpassing a 148-square-mile fire.
About 250 people were fighting the fire, along with two helicopters and three air tankers. The number of firefighters could surpass 500, Marzec said.
A Type I fire team, an elite unit, took over management Monday.
"We've got crews coming in left and right," Marzec said.
Meanwhile, the mountains surrounding Salt Lake City were shrouded in a smoky haze, the result of wildfires across the region. It was a factor in the unhealthy air alert posted for Salt Lake, Davis, Weber and Utah counties.
"It's like California," Carie Reese, 28, said as she walked downtown. "It's perpetuating the problem."
No evacuations were ordered because of the Milford Flat fire, and the blaze was threatening only a few structures and some ranch areas, Marzec said. Ranchers were getting help in rounding up cattle.
The fire forced the evacuation of historic Cove Fort over the weekend. The fort was built in 1847 to offer protection and refreshment to pioneers traveling through the newly settled West.
"We didn't even have 30 seconds notice," said Marleen Hodges, who owns the Cove Fort Chevron with her husband. "We literally ran. We could feel the heat and we were being pelted with charcoal and ash."
A California couple on a motorcycle died after they were hit from behind Friday. The crash threw them into oncoming traffic and they were struck by a truck.
At least six other fires were burning across Utah. The Black Rock Gulch fire on the Utah-Arizona border more than doubled in size to 13,700 acres, or 21 square miles.
"The fire increased in all directions. ... Extreme fire behavior is expected to continue," said Scott Sticha of the BLM.
The Neola North fire in northeastern Utah has burned 43,511 acres, or about 68 square miles, since June 29. It was 65 percent contained. Three died while trying to escape the flames.