Flintshire is experiencing the kind of freak weather seen only once in a lifetime, including a spectacular tornado.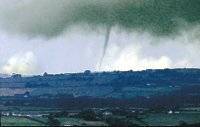 ©Rick Matthews
A tornado over the Mostyn/Ffynnongroyw area at noon on July 8.
This photograph - taken by Leader photographer Rick Matthews from Hilbre Island - shows the tornado over the Mostyn/Ffynnongroyw area at noon yesterday (July 8).
At the same time people living in the area reported either extremely heavy rain or hail.
Met Office spokesman Sancha Lancaster says the phenomenon is described as a funnel cloud until it touches the ground, when it becomes a tornado and causes destruction.
Bagillt Community Council chairman Mike Reece reported a minute of heavy rain in the village at the time and Ffynnongroyw county councillor Dolly Banks said there was very heavy hail there and heard there was particularly torrential rain in Mostyn.
"It's very strange for July, and there's more to come," said Cllr Banks. "God knows where it's all coming from, it's beyond us."
Sancha Lancaster said the weather currently being experienced in Britain was a 'once in 80 year event'.
"For the size of the UK per square metre we have more tornados than the United States, but they're not as powerful," she said.
"In the last two weeks, with the very stormy weather, there have been 12 across the UK. Stormy weather conditions cause convective clouds which give rise to tornadoes."
She said the weather we are experiencing was a once in 80 years event.
"You can get very intense thunderstorms in the summer, usually caused by humidity and heat, but this time things are more unusually and probably something you only see every 80 years."