A State of Emergecy has been declared in Taranaki after a swarm of tornadoes hit the area, as reports of damage flooded in, and the Metservice predicting more twisters across the country.
Senior Sergeant Geoff Ryan of New Plymouth police said that at 5.30pm during an electrical storm tornados hit the in Oakura, Egmont Village, Inglewood and the Waitara area.
A Civil Defence spokesman said at least six tornados hit the region.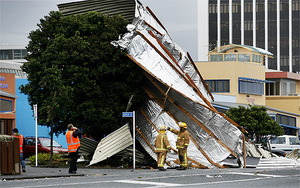 ©Trevor Read. Taranaki Daily News
RIPPED APART: Firefighters look at the roof that was torn off Placemakers in New Plymouth by a tornado.
Worst hit was Oakura, which has 40-to 50 houses sustaining damage of up to 80 per cent. Many of those houses are uninhabitable.
A welfare centre has been set up in Oakura to provide shelter for victims and the local fish and chip shop is handing out sandwiches to people who missed dinner.
One woman had been injured and an unknown number of people trapped in a vehicle by power lines on the corner of Wiremu Rd and Ihaia Rd towards Opunake.
Civil Defence declared a state of emergency in Taranaki at 8pm, giving rescue services wide-ranging powers.
The National Crisis Management Centre was activated tonight in support.
A spokesman from the Ministry of Civil Defence and Emergency Management said the centre was activated at a monitoring level to be available to assist if required.
The main hazard was live power wires that were down.
But, roads were beginning to reopen and some power was being restored.
Powerco said power was cut to 6000 homes throughout the region, affecting up 20,000 people. By 10pm power had been restored to about 2500.
The damage was so widespread it was hard to assess exactly how much had been done, Mr Ryan said.
"Obviously considerable damage has been done. Civil defence have been informed and, of course, they are looking to cater for a number of homeless people or people whose homes have been damaged."
"Certainly as far as we're concerned up in north Taranaki here it looks like Oakura's born the brunt of what's happened."
The main highways north, south and around the coast had all been blocked, Mr Ryan said.
"The (emergency) services are working to get the roads cleared, but. . .the conditions aren't great for moving around so we would encourage people to stay home."
In Oakura residents watched horrified as several tornadoes - one of them a giant - cut a destructive path through the small coastal Taranaki settlement at dusk tonight.
"I've never seen anything like it - a huge black triangle came in off the sea and went straight through Oakura from one end to the other," said Nigel Carter, who was driving into the township west of New Plymouth when they hit.
Another resident, Todd Burkett, says he and others were enjoying an after-work beer at the Butler's Reef Hotel when three tornadoes simultaneously hit the settlement.
"The day got darker and darker, then it began to pour down, and then there was a massive flash over near the waterfront," he said.
"We all looked up and saw three tornadoes - two smaller ones and one really big bastard. They all moved right across Oakura."
Early reports say at least three houses on the Oakura waterfront have been severely damaged. A teenage girl earlier reported missing in one of the worst damaged houses has since been found, but is injured.
Mr Carter said he was driving into Oakura at 5.30pm when torrential rain forced him to stop.
"Then the wind came up and formed a spray across the road. I looked up and saw a big black triangle - not a spout - coming out of the clouds and touching the sea.
"It would have been hundreds of metres across at the top. I've never seen anything like it."
New Plymouth fire service spokesman Ian Drewery said crews were out "all over the place" after what appeared to be widespread tornadoes coming ashore.
There was damage to the north east of New Plymouth with roads blocked and trees and power lines down in a number of places from Waitara across to Inglewood.
The police and fire brigade received numerous calls from 5.30 this evening about roofs being lifted, windows blown in and trees down.
Taranaki Daily News editor Jonathan MacKenzie said "an absolute swarm of tornadoes" began hitting the region at 5.40pm and it seemed they were still coming.
His newsroom was hearing reports of many, many houses with severe damage, power was out through much of the region and state highways were blocked by falling trees and other debris.
The MetService said tornadoes are likely to last till midnight and are being caused by a series of thunder storms stretching 100km along the Taranaki coast.
Additional reporting NZPA, Stuff.co.nz