The death toll from rains battering India rose to 61 as the downpour flooded states amid forecasts that the savage monsoon was likely to gain fury this week, officials said Tuesday.
Seventeen more deaths reported from Gujarat and West Bengal took to 294 the number of people killed in rain-related accidents so far this year, they said.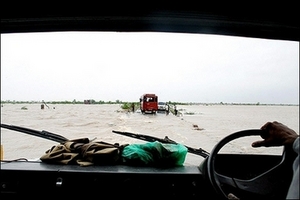 ©AFP/Sam Panthaky
This picture taken from inside and Ahmedabad Fire Services rescue vehicle shows vehicles struggling to pass a section of submerged highway at Dhanduka, some 90 Kms from Ahmedabad.
Gujarat relief officials said 28 people were either washed away, killed by lightning or buried in their collapsed homes during the past three days of non-stop rains in the western state.
More than 7,000 people have been evacuated from Gujarat's coastal districts as the rains worsened, and 22 children had to be rescued from their flood-swamped school bus.
Districts such as Amreli, Bhavnagar and Jamnagar and Junagadh faced the brunt of the downpour, relief department spokesman said and warned several regional reservoirs were brimming over danger levels.
In the eastern state of West Bengal, six members of a family died Tuesday when rain washed away their hut in a village 40 kilometres (25 miles) south of state capital Kolkata.
Three others were killed in separate rain-related accidents Tuesday, state government officials said.
No flights took off from Kolkata Tuesday, they said.
"We are helpless as our city does not have the infrastructure to face such a heavy downpour," Kolkata Mayor Bikash Ranjan Bhattacharya told AFP as parts of the city of 12 million remained partly submerged.
In Maharashtra state, where rains left Indian financial hub Mumbai waterlogged over the weekend and disrupted flights and trains as the city's river overflowed, 19 more deaths have been reported since Sunday.
"The death toll from the state stands at 62," Ramesh Kumar, principal secretary of relief and rehabilitation said on Tuesday.
Fifteen of the deaths were in Mumbai, mainly from electrocution and collapsing walls, said Mumbai's civic chief Jairaj Pathak.
Some 5,000 people had been moved from flooded areas on the weekend, but rainfall had eased and the city was back to normal, the state's director of disaster management Suvas C. Mohanty said.
Meanwhile in the central state of Madhya Pradesh, five people died, including two boys who were killed when their flimsy huts collapsed, the Press Trust of India said.
Television reports showed people wading through knee-high water.
The new deaths brought the toll from the monsoon-affected states to 294. Some 144 deaths were reported when incessant rains lashed southern states 10 days ago.
The monsoon rains which sweep India from June to September regularly disrupt life and often cause flooding and deaths in the densely-populated country of billion-plus people.