Even after sunshine returned to southeast Kansas and southwest Missouri, rivers swollen by days of heavy rain inched dangerously upward across the Plains.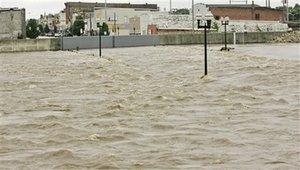 ©Orlin Wagner (AP)
The Marais Des Cygnes River flows over the U.S. 59 bridge in Ottawa, Kan., Sunday, July 1, 2007. Closed flood gates protect the downtown business district. Flooding worsened across southeast Kansas and southwest Missouri Sunday as high water levels forced more people from their homes and forecasters said it could be days before area rivers begin returning to normal. Among the hardest hit regions was Osawatomie, Kan., in Miami County, where the Kansas National Guard was deployed to help with a mandatory evacuation of the city as workers struggled to reinforce a levee on the Marais des Cygne.
The Kansas National Guard was sent to help with a mandatory evacuation of Osawatomie, a small town in eastern Kansas and one of the hardest-hit communities in the region.
The levees and dikes held, after reinforcement work by volunteers with sandbags, but rainwater pooling in low-lying areas overwhelmed pumps and flooded neighborhoods.
Retired welder Claude Blackmon, 65, stood in a street in southeast Osawatomie and pointed out the mobile home where he had lived for the two years since his wife died.
It wasn't easy to spot. Water covered all but the top 18 inches of the trailer.
Blackmon was able to save his riding lawnmower, his guns and some important papers. Everything else - his new appliances, his family heirlooms - was inundated by the fast-rising water.
And none of it, Blackmon said, was insured. "I don't know what I'm going to do," he said. "I'm a little too old to start over now."
Storms have claimed 11 lives in North and Central Texas in the past two weeks. Authorities were also still searching for two 20-year-old men from Leander whose Jeep Cherokee was found submerged in a creek Thursday.
President Bush declared Texas a major disaster area Friday, ordering federal aid for Cooke, Coryell, Denton, Grayson, Lampasas and Tarrant counties.
Gov. Rick Perry declared disaster areas in 37 counties across Texas.
Residents of those counties will have access to state assistance programs.
The weather service measured more than 11 inches of rain in June at Dallas-Fort Worth International Airport, about a half-inch shy of the 1928 record.
The storms resulted in 152 flight cancellations and 56 diversions Sunday at Dallas Fort Worth International Airport, airport spokesman David Magana said. Other travelers experienced flight delays of about one hour, he said.
At least 200 people were still displaced from their homes near the Brazos River in Texas' Parker County. Some houses sustained minimal damage while up to 4 feet of water had seeped into others.
Some of the worst flooding Sunday in Oklahoma was near Bartlesville, where the Caney River was more than 3 feet above flood stage.
Amtrak's Heartland Flyer passenger rail system between Oklahoma City and Fort Worth was halted Sunday because of flooding in north Texas, and passengers were bussed instead, said Terry Angier, a spokeswoman for the Oklahoma Department of Transportation.
In north Texas, hundreds of residents near the overflowing Wichita and Brazos rivers remained evacuated from their homes Sunday, uncertain of when they could return.
Kansas Gov. Kathleen Sebelius on Sunday added six more counties to her declaration of a state of emergency, including Allen, Cherokee, Elk, Franklin, Greenwood and Miami and said she planned to survey the damage Monday.
In Osawatomie, which evacuated 40 percent of its 4,600 residents when areas near two rivers flooded, Mayor Philip Dudley kept an eye on Pottawatomie Creek on the town's south flank and the Marais des Cygnes on the north.
"It's going to be a few days before we get some of the higher rivers to come down," said Maren Stoflet, a National Weather Service meteorologist in Pleasant Hill, Mo.
In Independence and Coffeyville, officials were preparing for additional flooding along the Verdigris River, which already has set record levels, as the U.S. Army Corps of Engineers planned to open floodgates at the Elk City and Fall River Toronto Lake reservoirs farther upstream to alleviate pressure.
The Verdigris River at Independence set a new record of 52.4 feet Sunday morning, shattering the old mark of 47.6 feet and
more than 20 feet above flood stage.
In Coffeyville, the old record of 26.6 feet fell Saturday night as the river surged past 29 feet, more than 10 feet above flood stage.
"Releasing the water may not cause the river to crest higher, but it may cause the crest to remain for a longer period of time," said Robb Lawson, a National Weather Service meteorologist in Wichita.
___
Associated Press writers David Twiddy in Kansas City, Marcus Kabel in Springfield, and Anabelle Garay in Dallas contributed to this report.