Swimmers were banned from the sea yesterday after lifeguards spotted jellyfish they say have never been seen before in Dubai.
Staff at Jumeirah Beach Park speculated that the tiny purple and white creatures had been blown here by Cyclone Gonu.
Red flags were hoisted at the beach park yesterday as well as the Open Beach due to a large number of jellyfish spotted in the morning. However swimmers were seen in the late afternoon at Umm Suqeim Beach.
Barbara Scocci, 31, an Italian tourist visiting family in Dubai said an hour after she had arrived at the beach yesterday morning a Dubai Municipality jeep cruised up and down the shoreline calling everybody out of the water with a megaphone.
"It was about 10.30am and some officials turned up and were insisting that we get out of the water. They went up and down the beach a few times to get everybody out, but I didn't see anything," said Scocci.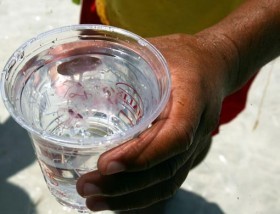 ©Megan Hirons/Gulf
A Jumeirah Beach Park lifeguard shows off a captured jellyfish. Dubai Municipality closed public beaches on Sunday after an influx of small pink jellyfish around the cities beaches.
She said lifeguards then showed her and other bathers the jellyfish captured in a cup and banned them from reentering the water.
First time
"They said they might be poisonous. They put the red flags up and even planted flag poles in the shallow water," said Scocci.
Jerry Monroy, one of the lifeguards, said: "Two days ago we had the cyclone and now these [jellyfish] are here. Maybe it is because of the cyclone.
"I have been a lifeguard for nearly five years and it is the first time we've seen these small jellyfish in Dubai. If they touch your skin, they burn you."
Just weeks ago there were reports of large blue jellyfish washed up on the beach in Jumeirah.
Lifeguards said that these blue creatures only gave a mild sting, but they said the smaller purple and white jellyfish spotted yesterday could be more harmful. Lifeguard Jonjon Eleazar said: "This kind of jellyfish we don't see here in Dubai. We've only seen it in pictures. One man here said it would cause paralysis," he said.
Another holidaymaker Vlade Pavelcik, 38, a manager from Slovakia said lifeguards were looking around and called everybody out of the water. "They said the water was full of jellyfish. I don't know if this is a natural occurrence here. Maybe it's because of the cyclone," he said.
With people not permitted to swim, Oman Qasim Ali, a foreman at the Department of Public Parks and Horticulture for Dubai Municipality at Jumeirah Beach Park, said far fewer people were visiting yesterday.
Species: Aurelia can cause excruciating pain
The jellyfish have been identified as Aurelia Jellyfish, also known as Moon Jellyfish by Dubai Zoo Director Dr Reza Khan. One or two jellyfish of this type will not harm swimmers but hundreds could cause excruciating pain, skin rash and the sensation of receiving a small electric shock, he said.
"They are quite common to the Indian Ocean. Especially when the seas are rough in summer they are carried by the ocean current but Aurelia is not a fast mover. When the sea is pounded by wind and waves it pushes them forward to the shore," said Khan.
He said the specimens photographed looked like juveniles but adults can reach a kilogram in weight. Babies usually eject a miniature torpedo to paralyse their prey or coil their tentacles around it. Bathers would feel a prick like an electric shock if they brushed against them in the sea.
"If hundreds touched you it would be excruciating pain that might last a few hours. The best thing to do would be to go to hospital and be treated. Alkaline solutions can help," said Khan.