Mr Tan Boon Hock, 83, was nicked on his finger by a crab on Feb 22 while preparing live crabs for his family's dinner. He died two days later from the infection of the flesh-eating Vibrio bacteria.
Mr Tan had put a plaster on the cut and continued with his work, but around midnight he began vomiting and had diarrhoea. He refused to go to the hospital despite pleaas from his wife and daughter.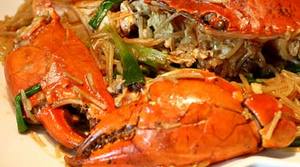 ©n/a
With no improvement in his condition by 6am, Mrs Tan called her son, Mr Tan Aik Cheng, who told his younger sister to call for an ambulance. He rushed to his parents' home and was told by paramedics that his father was in critical condition due to his very low blood pressure and irregular heartbeat. Mr Tan then accompanied his father to the hospital.
At the National University Hospital's (NUH) A&E department, the doctors informed him that his father had been "infected by a flesh-eating bacteria called Vibrio and... it was most likely that the crab spread the bacteria to him."
Doctors amputated the senior Mr Tan's arm from below the elbow to prevent the bacteria from spreading, but it was already too late. Mr Tan's father spent the night in intensive care, but on the morning of Feb 24 doctors told him that he was not getting any better.
"My father had been given the maximum dosage of antibiotics... He was being kept alive by the medicine. The doctor said that if the dosage was lowered, my father would be able to pass on more quickly and we could end his suffering,' said Mr Tan.
The senior Mr Tan died at around 2pm on Feb 24.
"I hope that through this incident, people will learn that they should see a doctor immediately if they are pricked by crabs," said Mr Tan.
Changi General Hospital orthopaedic surgeon Dr Chang Haw Chong said he sees about 20 cases of flesh-eating bacteria a year but has treated only two patients infected by Vibrio over the last 10 years. Both of them died.
According to Dr Chang, there are different kinds of flesh-eating bacteria, many of which are treatable. The occurence of being infected by Vibrio is more rare.
Vibrio species live in salt water and around marine creatures such as crabs, clams and mussels, said Associate Professor Paul A Tambyah, head of Division of Infectious Disease at the Department of Medicine in NUH and National University of Singapore.
An Agri-food and Veterinary Authority spokesman told the New Paper that crabs sold here are safe to eat. However, one should exercise care when handling seafood like crab and warned against eating them raw.
Said Dr Chang, 'To be on the safe side, people should wear gloves when handling all seafood.'