At least 13 people have died from the effect of freezing weather in South Africa's Eastern Cape province, the police disaster management coordinator for the district told AFP on Wednesday. "I can confirm that 13 people died in Eastern Cape region from the effect of snow and chilly weather," Captain John Folbein said in a telephone interview. The heaviest snowfalls in 20 years blocked major highways in South Africa on Tuesday, as a severe cold snap tightened its grip on the country.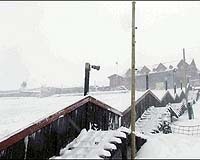 ©AFP
The Tiffindell resort in the Eastern Cape after a heavy snowfall. The heaviest snowfalls for 20 years have blocked major highways as a severe cold snap tightens its grip on South Africa.
Air Force helicopters had been used to rescue six people trapped by snow on the Katberg mountain in Eastern Cape, Folbein said.
Other deaths were reported from weather-related incidents around the country, including fires resulting from people's attempts to keep warm, as temperatures in Johannesburg dropped to minus three degrees Celcius Wednesday morning.
The SAPA news agency reported that a 69-year-old had burnt to death when her shack caught fire in Eatonside, south of Johannesburg.
Meteorologists said the freezing weather was expected to persist for another week.