The official ceremony to mark the 40 year anniversary of the unification of Jerusalem was canceled, Wednesday afternoon, due to an unexpected storm. City residents told Ynet of torrential downpours and heavy hail - definitely not summer weather in Israel.
Comment: According to Jewish mythology, rains or storms during summer time considered a curse. It couldn't have been more symbolic then this.
It seems that nature sends additional message for cursed Zionist state after ambassadors from the United States and the European Union countries decided not attend and boycot the celebrations to mark the 40th anniversary of the so called "reunification" of Jerusalem.
Several streets were flooded and subsequently closed to traffic, including the tunnel to Mt. Scopus. Other tunnels in the area, leading to and from Ma'aleh Adumim were also blocked off.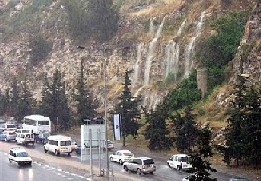 ©Haim Feldman
Main streets flooding
The wet weather caused a sinkhole on a main thoroughfare in the city.
Two monks were evacuated by rescue forces from the Gat Shmanim Church, which flooded. A number of houses in the Wadi Joz neighborhood of East Jerusalem were similarly affected. Police forces came to the rescue of several area residents trapped in their vehicles.
Natanel Feldman, who was in the Old City when the storm broke said, "the central street is totally flooded.
Someone here told me that, even in the winter, he can't recall having seen a storm like this.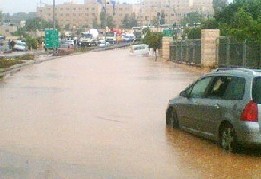 ©Aviram Zino
Cars stuck
"It's hard to imagine that, only a few hours ago, it was warm and sunny. Now I hear thunder and lightning.
It's like winter. These rains are bizarre."
"It began as an ordinary day. Warm, even," recounted Jerusalem resident Moshe Vilner. "All of a sudden, it began raining and hailing." Resident Dov Ayalon said that "cars got stuck in the gathering waters...In addition, sewage systems also overflowed."
"This is extremely heavy hail," said a resident named Liron. "It's accumulating on the ground. People in Jerusalem are in shock."
Ynet meteorologist Boaz Dayan explained that this is the result of a cold front passing through moderate to heavy cloud cover over the city. "The temperatures in Jerusalem dropped from 26 to 15 degrees Celsius in a matter of hours," he said.