A barking dog runs up and down the length of the chain-link fence. His frenzied warning: Come any closer, I'll tear you to pieces.
I knock on the door. No answer. I knock again and hear a voice. I knock one more time and notice two eyes peeking from behind some blinds. Flashing my badge, I explain I'm doing a story about the alien.
It takes awhile, but she pries open the door a third of the way.
"I'm not sure I can be of any help," she says, in a girlish voice.
"Do you know where he was buried?"
"When people come here, I know they come to see him 'cause they go straight for that tree. The one over there that curves like an arm."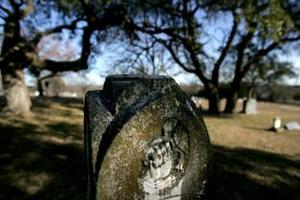 ©Courtney Perry
Legend has it that the alien grave in Aurora lies underneath the bent arm of an old tree, far left, in the Aurora Cemetery. Requests to exhume the body in the past have been denied by the cemetery board.
I turn around to face the cemetery and hear the door shut. The tree is a massive knotted oak with sinewy limbs that look like the long, arthritic fingers of a grandma.
The cemetery is the site of Texas' most famous UFO crash. On April 16, 1897, six years before the Wright brothers made history at Kitty Hawk, a cigar-shaped object crashed into a windmill here. Some say an alien inside the craft survived the crash. Others say it died and the townspeople here gave it a proper Christian burial.
But right there in the shade of the tree, there's just a bunch of dead grass, surrounded by headstones so old the wind and rain have worn the inscriptions.
"John Holt," one reads, "Born Oct. 13, 1821, Died Oct. 10, 1885." Other headstones mark births and deaths only five or six years apart.
The only sign of an alien is a historical marker that sits at the the cemetery's entrance: "This site is also well-known because of the legend that a spaceship crashed nearby in 1897."
Aurora is a one-stoplight town of 853 residents in Wise County, just north of Fort Worth. There's Tater Junction, a restaurant that looks like three double-wides cobbled together, and just down the road, Piddle & Play Gifts, Etc.
"Let me guess, you're lost?" asks Karen Tedrow, Piddle & Play's owner.
I shake my head and ask about the alien.
"I don't know anything about it," she says, but continues anyway.
"You know where it actually happened, right?"
Pointing at a hill across the street, she said the alien crashed on the property of Judge Proctor.
Brawley Oates bought the property, and his grandson lives there now, she said. The grandson blames his arthritis on the left-over wreckage, which was thrown into a well.
"Some people say it really happened," she says.
In the 1970s, the International UFO Bureau found out about Aurora. Trying to get permission to exhume the body, the private group, led by Hayden Hewes of Oklahoma City, went to a judge, and the media descended on the small town. It was the first time Aurora had seen this type of attention.
"There was quite a mess," said Tedrow. "The residents had guns and everything, because they didn't want them to do it.
"And I understand, because my parents are buried there, and I don't want them digging around. Earthly body or not, they ought to let it rest in peace."
Tedrow sends me up the street to City Hall, a white brick building with a couple of offices and a big conference room.
Toni Kelly-Richardson, the city administrator, brings out a box full of documents and newspaper clippings. She hands me her business card, black with a silhouetted alien on it.
"So did it really happen?"
"Do I believe?" she asks. "Oh, why not? It'd be incredibly naive to think we're the only people in the universe."
In the box in her office there's a yellowed copy of a local newspaper with a picture of kids sitting near a headstone. Richardson says a stone engraved with a delta and a couple of circles used to be near the base of the oak tree. During the '70s, when the world found out about Aurora, the stone disappeared - stolen, some say.
There's one thing missing from the box: a contemporary newspaper article documenting the alien's crash. The article was written by E.E. Hayden, a Dallas Morning News reporter. He said the spaceship was the same one that had been traveling all over the country. In UFO circles, 1897 is known as the Year of the Great Airships because of sightings that were reported everywhere from Illinois to Texas.
The spaceship, Hayden wrote, "collided with the tower of Judge Proctor's windmill and went into pieces with a terrific explosion, scattering debris over several acres of ground, wrecking the windmill and water tank and destroying the judge's flower garden. The pilot of the ship is supposed to have been the only one aboard and, while his remains were badly disfigured, enough of the original has been picked up to show that he was not an inhabitant of this world."
When talk turns to the alien, everyone in Aurora sort of smirks. It seems a joke, but not quite, because after 110 years the story has become legend.
Richardson smirks. Maybe because she didn't want to tell me what she was about to tell me. Or perhaps because she thought it was silly.
"My previous mayor," she says, "said the original gravestone is still there. It's out back by the fence line."
The Wise County Heritage Museum is a stone building, a former Baptist college in Decatur, the county seat, about 20 miles north of Aurora.
Inside are old typewriters and what appear to be printers, old and worn with large rollers and metal lettering.
Rosalie Gregg, executive director of the historical society, emerges from her office. A tall, fair-skinned woman with crystal-blue eyes, Gregg has lived in Wise County most of her life.
Next to the birth and death records, she keeps a box of papers pertaining to the Aurora alien. She says there's a flurry of alien questions every three or four years. She responds to every query.
In the box there are probably hundreds of typewritten letters that start the same way: "It didn't happen."
Hayden wasn't a staff writer, Gregg says, but a stringer who wrote the alien story to foist attention on Aurora, a dying town that had just lost a fight to route a railroad through it.
Either way, Gregg says she recorded a conversation with Oscar Lowrey, an Aurora resident who was 11 in 1897. Lowrey said nothing happened, that he would have heard about an event as earthshaking as a spaceship crash.
"Also, if it had happened, it would have been all over the Decatur newspapers," which it wasn't.
"Plus, we know who's buried there," she says. "But the family doesn't want anyone to know."
So what about all that fuss that went on in the '70s, when the townspeople didn't want the body exhumed? What was the big deal?
"Well, some folks say the boy who was buried there had yellow fever, and they didn't want another epidemic," she says.
"So why are you so hellbent on proving this didn't really happen?" I ask. "I mean, it's kind of fun to think that an alien crashed in a rural North Texas town, no?"
Gregg scrunches her face and shakes her head.
"I thought that at first," she says. Then the tourists came in droves, disturbing the cemetery's peace, stealing headstones and taking tapes Gregg had at the museum.
"I thought that at first," she says, "but once people started getting hurt, I didn't think so anymore."
I go back to cemetery to look for the headstone. Finding it might prove there's a little more to this tale than a well-produced prank.
I work my way past the vines, past the curtain of thorns and a barbed-wire fence and on to the creek that borders the cemetery, where the old mayor said the headstone was thrown. It looks like a forgotten valley, littered with empty vases and faded plastic flowers.
Trudging through the mud, I find a few stones, but none with a delta or the three circles that were described. I do find a small cross - made of two wooden planks put together with drywall screws - at the head of an unmarked grave.
Maybe that's where the alien is buried; or maybe water rose one spring and washed the stone away. It could be the stone never existed or it was placed there for a photo op the day the reporters came to town.
In Aurora, there used to be an alien shop. The town was touted as Area 114, spoofing Roswell, N.M., and incorporating the number of the two-lane highway that passes through Aurora.
But as the legend of the alien faded, those did, too. What's left is a bunch of suburban houses and a huge Baptist church.
I ask an old man at Tater Junction whether he believes the story.
"It would surely be a shame if the good Lord made just this one little planet," he says.
Some residents say the alien story was concocted by two drunks who wanted to cover up a fire they had set at Judge Proctor's windmill.
Someone else says the alien didn't die in the crash. It survived and drank whiskey and played poker with the locals - until the Texas Rangers got wind of it and shot it dead.
I'm not convinced anyone in Aurora actually believes in the alien.
And what about me?
Who am I to say?