Airlines were investigating why windshields on at least 13 planes were reported cracked at Denver International Airport within a two hour period on Friday.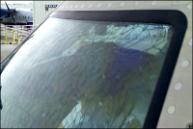 ©AP
One of the 13 cracked windshields at DIA on Friday, February 16th. Only the outer layer of the windshields were affected.
At Denver International Airport, spokesman Steve Snyder confirmed that about 12 airplanes sustained cracked windshields Friday as high winds buffeted the state, delaying some flights.
Snyder said officials were "baffled'' by the incidents and found no evidence of flying debris that could have caused the cracks.
Joe Hodas, spokesman for Denver-based Frontier Airlines, on Saturday said there were no new reports of cracked airplane windshields. Two Frontier airplanes sustained cracked windshields while airborne near Denver, and two others sustained cracks while still on the ground.
Airplane windshields are heavily reinforced and designed to handle travel at hundreds of miles per hour and even deflect collisions with birds, Hodas said.
"It's truly bizarre,'' he said.
Hodas said one theory is that there may have been a power surge while airplanes were connected to auxiliary power at the airport gates. Windshields are electrically heated, and a surge could have somehow weakened them.
"It's pretty unlikely, but it's the only thing we can think of right now,'' he said.
Snyder said airport engineers tested the electrical system and found no problems. Besides, he noted, one airline that experienced cracks, SkyWest, was never connected to the auxiliary grid.
From http://cbs4denver.com/local/local_story_048183154.html
Denver Airport officials are trying to figure out what cracked the windshields of 13 planes Friday night.
Nine Sky-West planes and four Frontier planes were damaged at DIA, but no one can explain why. Wind is a possible cause, but airport
officials say conditions were not that bad last night. The damaged planes were in different parts of the airport. Some were taking off, others were landing, and some were even sitting at the gate.

From CNN.com
Denver, Colorado (AP) -- Airlines were investigating why windshields on at least 13 planes cracked at Denver International Airport as winds of up to 100 mph whipped through the foothills in Colorado.
SkyWest Airlines reported cracked windshields on eight planes that were taking off or landing Friday as winds gusted up to 50 mph, spokeswoman Marissa Snow said. One plane's windshield cracked while it was airborne.
"Only the outermost layer was affected," Snow said of the windshields, which are made from multiple layers of glass.
SkyWest, a regional carrier for United Airlines, said the planes involved were the Embraer EMB120 Brasilia and Bombardier Canadair Regional Jet, though she did not immediately have numbers.
Two Frontier Airlines Airbus planes had their windshields crack while airborne, while two other windshields cracked while at the gate, airline spokesman Joe Hodas said.
In all instances the planes returned to the airport and/or made it to the gate safely. No emergencies were declared and no injuries were reported.
Hodas said it was unclear whether the high winds were to blame.
"It's not exactly unusual weather for Denver," Hodas said. "We don't know what it is... It's kind of a mystery at this point."
Spokesman Steve Snyder said
windshields cracked on several different makes and models of airplanes from several airlines, though he did not immediately know which and how many. None of the pilots reported flying debris, Snyder said.
"Everybody is fairly baffled by it," Snyder said.
At least 55 flights were canceled and others were diverted.